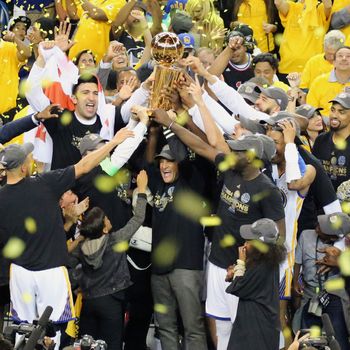 Confetti.
Photo: Bruce Yeung/NBAE/Getty Images
With 3.4 seconds left in game five of the NBA finals, Warriors star and eventual finals MVP Kevin Durant was called for traveling as he gleefully skipped with the ball, secure in the knowledge that his team's 129–120 lead was safe. The Cavs should have gotten the ball, but no one cared. As both teams took the floor to hug and shake hands, those last few seconds ran off the clock and the game was official.
Maybe the entire 48 minutes should have been treated this way. Three days after dropping their only game of the playoffs and back on their home court, these Warriors were not losing on Monday. Not with Steph Curry, Draymond Green, Klay Thompson, and Durant. And not against the Cavs, who got the kind of performance from LeBron James you'd expect in a game of this magnitude. But his supporting cast, outside of Kyrie Irving and J.R. Smith, didn't provide much support. And in the end, the Cavs were fortunate to lose by only nine.
The Warriors have now won two NBA titles in the last three years, and after watching them go 16–1 on their way to this one, it's hard to imagine anyone stopping them in the foreseeable future. Except for maybe President Trump, who, if he didn't already hate the team for its up-tempo style and proximity to Nancy Pelosi's district, will certainly hate them if they boycott the White House, as is already being rumored.
Apparently unfounded reports that the team had unanimously decided to skip the traditional meeting with the president began circulating Tuesday morning on Twitter. Connor Letourneau, a beat writer for the San Francisco Chronicle says "no official decision has been made." But for anyone who's followed this team, it would be no surprise to see them snub Trump.
Head coach Steve Kerr has been one of the sports world's most outspoken Trump critics for the past year. Just days after the election, Kerr lamented Trump's use of "racist, misogynist, [and] insulting words." He later said Trump is a "blowhard" and "ill-suited to be president."
Players have weighed in too. In February, Curry cracked a dad joke at Trump's expense when asked about Under Armour's CEO calling Trump a "real asset to the country."
"I agree with that description if you remove the 'et'," said Curry, who has a sponsorship deal with the brand.
David West, the journeyman power-forward who joined the Warriors in the off season in hopes of winning a ring, might be the most vocal Trump hater in all of the NBA. In November, he called Trump's win election "unnerving and unsettling," and later explained why.