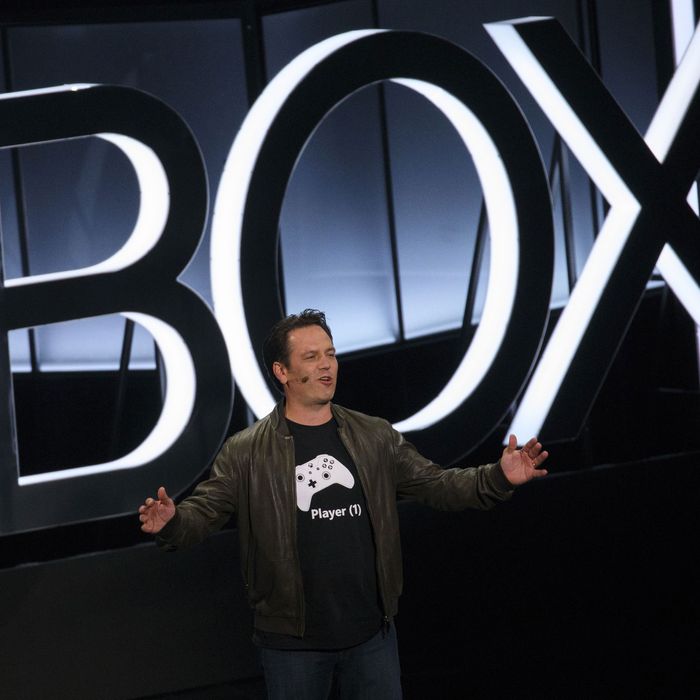 Photo: Patrick T. Fallon/Bloomberg via Getty Images
The Electronic Entertainment Expo, more commonly known as E3, technically starts on Tuesday, but it kicked off over the weekend with a trio of elaborate press conferences from three of the video-game industry's largest companies. Microsoft formally unveiled its next Xbox model, while game developers EA and Bethesda teased some new games. And, as is always the case, some internet bullshit happened along the way.
Microsoft
The centerpiece of Microsoft's press conference was the Xbox One X, a performance boost over the current model. They threw around a lot of technical specifics during its unveiling, stuff like "liquid-cooled vapor chamber," and mentioned 4K resolution dozens of times. Long story short, it's faster and it looks better. But what you really need to know is that it's a higher-end model with a higher-end price tag: The best Xbox on the market will cost you $500 when it launches in November.
Elsewhere in the program, Microsoft unveiled the next Assassin's Creed game, Assassin's Creed: Origins, set in ancient Egypt, and BioWare's next big RPG Anthem. Arguably the biggest announcement was that, for an unspecified period of time, breakout PC hit PlayerUnknown's Battlegrounds will be exclusive to Xbox on consoles.
Electronic Arts
EA's showing was mostly unsurprising. Updates on the annual entries in the FIFA, NBA Live, and Madden franchises (the latter has a story mode now), a new Need for Speed game, a downloadable add-on for Battlefield 1, and a big tease of the next Star Wars: Battlefront game. The only thing out of left field was the unveiling of A Way Out, a co-op game about escaping prison.
Bethesda
Like EA, Bethesda didn't have a ton of new stuff to show. Fallout 4 and Doom are getting VR upgrades, there's a new Dishonored expansion coming in the fall, and the company is trying out a program for paid mods again (it attempted a clumsy program a few years ago and almost immediately shut it down).
The biggest reveal was Wolfenstein II: The New Colossus, a sequel to Wolfenstein: The New Order, that looks a bit reminiscent of Man in the High Castle, but with a lot more head shots and at least one psychedelic lizard.
What's trending
In trying to hype people up for the new Xbox, Microsoft printed some embarrassing shirts that said, "I witnessed the most powerful console ever." On the one hand, that's corny as hell. But on the other hand, it got everyone talking about Microsoft and their very powerful console on Twitter. So the joke's on us, I guess.
During Microsoft's press conference, the pirate co-op game Sea of Thieves was unveiled, and something seemed … off about the banana-eating animation.
Oh, Gamergate stuff, too.
Briefly teased during the Microsoft conference was a cool-looking game called The Last Night that everyone got excited about — until someone decided to dig through creator Tim Soret's Twitter account and found a long record of Gamergate-related tweets, including the standard "it's about ethics in journalism" line (hint: It's not), and renunciations of feminism and identity politics. One now-deleted tweet even wondered if it would be possible to use Gamergate mascot Vivian James in his game. Briefly addressing the outcry, he wrote on Twitter, "In no way is The Last Night a game against feminism or any form of equality. A lot of things changed for me these last years."
During all of this, primary Gamergate target Zoë Quinn called Soret out, and then Markus Persson, the creator of Minecraft better known as Notch, called her a cunt. Persson sold his company Mojang to Microsoft in 2014 for more than $2 billion, is rich enough for a thousand lifetimes, and is spending this current one getting mad online. It's almost inspiring.
Sony and Ubisoft will make their presentations later today, and Nintendo will do the same tomorrow, and then the actual convention begins.