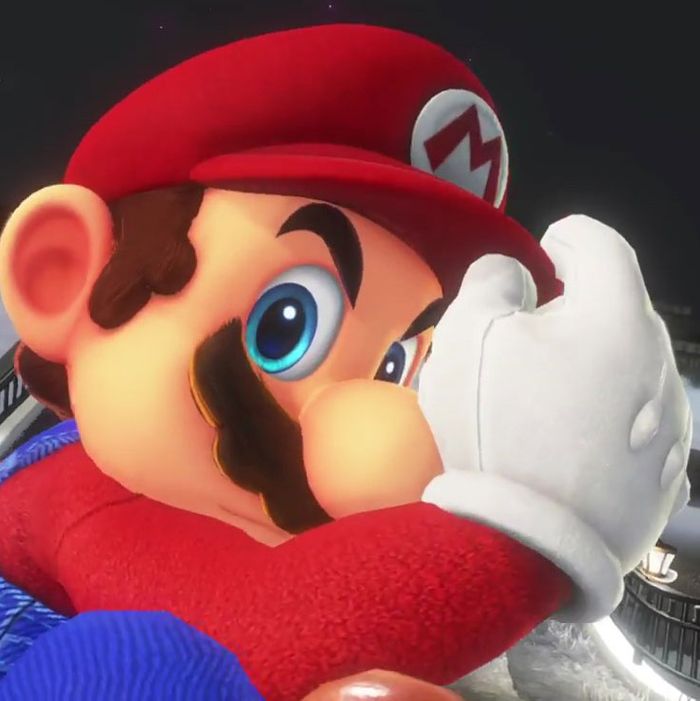 The second batch of major press conferences at the yearly video-game convention E3 — including keynotes from Nintendo and Sony — featured a bunch of hotly anticipated games (a new Mario game!), as well as some surprises (Mario can be a frog??). Now that the show floor has opened up to rabid gamers, all fighting to be the first to kiss the new Xbox, here's a quick recap of what you might have missed.
Ubisoft
French game developer Ubisoft's press conference was a lot of expected announcements, and one big surprise. The company kicked it off by revealing some details about its "Mario meets the Rabbids" crossover, which combines the Minions-like rabbit creatures from the company's famous Rayman series with the world's most famous Italian plumber. Here's the upshot: It looks weird as hell.
Next, Ubisoft showed off the next releases in its flagship megaseries, Assassin's Creed and Far Cry, both of which had already been announced, but saw new gameplay videos. For fans of Assassin's Creed IV: Black Flag, there was the welcome news that that game's sailing mechanics were being built out into their own full game, Skull and Bones. A South Park mobile card game is also happening.
But the biggest news was the closing announcement: The reveal of a long-awaited follow-up to the cult classic Beyond Good & Evil, a sequel that had been teased nearly a decade ago and then never heard from again, except in glancing mentions. Beyond Good & Evil 2 will apparently be a prequel, with cursing monkeys and space bikes. Gamers went nuts online, and creator Michel Ancel cried onstage.
Sony
Sony's PlayStation conference was in defense mode this year, as the console giant tried to mute some of the interest around Microsoft's new Xbox model. Mecha-dinosaur adventure game Horizon Zero Dawn is getting some new DLC, and the ten-year-old classic Shadow of the Colossus is getting a spiffy new remake. The reimagining of God of War seen last year also got a new trailer. Notably absent were any new details on Death Stranding, wacko auteur Hideo Kojima's next game.
The most exciting announcement was the reveal of a new Spider-Man game (not related to the upcoming film), full of elaborate web-fu and, mercifully, a minimal amount of "witty" fight banter.
Nintendo
Reenergized by the release of its newest console, the Switch, Nintendo unveiled a slew of sequels in its beloved franchises. There are few details, but the company is working on a fourth Metroid Prime game and another Metroid for 3DS, which has fans of the perennially ignored franchise excited. There are also new games in the works featuring the beloved characters Kirby and Yoshi, and the Pokémon Company is working on a new "core" game for the Switch, marking the first time a main Pokémon game will be playable on your TV.
And the show closed with a new trailer for a new Mario game: Super Mario Odyssey, which looks bonkers. Mario's hat apparently gets possessed and then takes over animate and inanimate objects — like businessmen, taxis, and dinosaurs? It's their big tentpole release for this holiday season, and it looks very fun. They even wrote a song for it!