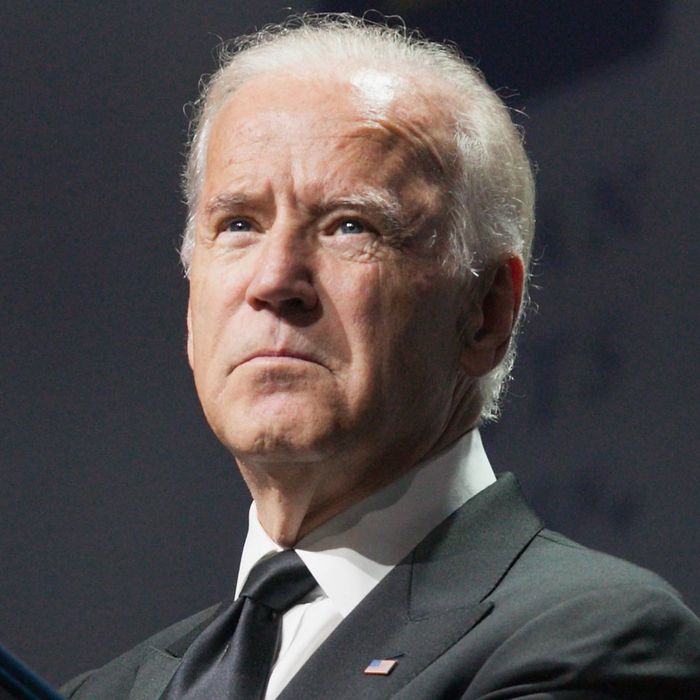 "Do want to take this outside?"
Photo: Teresa Kroeger/FilmMagic
The report from Fox Business last week that former vice-president Joe Biden slapped down hedge-fund billionaire Bill Ackman for disrespecting the memory of his dead son at a Las Vegas dinner immediately blew up on social media and spawned innumerable LOLs. Within hours it was picked up by, among others, the New York Post, Slate, Business Insider, and Daily Intelligencer.
But that widely disseminated version of events isn't true, according to four people who were at the off-the-record event, which was held during the annual SkyBridge Alternatives — or, SALT — hedge-fund confab in May. These attendees told New York that Biden was talking about President Trump, not his deceased son, when the two men had the exchange of words reported by Fox's Charlie Gasparino. While 2000 people attend SALT, only about 25 top hedge-fund honchos, politicos, and journalists are invited to the dinner.
"Bill's Ackman's comment was not directed at the vice president's son. The discussion was about Trump," Robert Wolf, a Democratic Party financier and friend of Biden's who has attended nine SALT conventions and the accompanying dinner for bigwigs, says.
In a statement provided exclusively to New York, SkyBridge calls the Fox Business story "extremely inaccurate" and an "overwhelming misrepresentation of facts." According to the Fox report, Biden called Ackman a "wiseass" and an "asshole" when the hedge-fund billionaire teased Biden about his loquaciousness when Biden went silent after talking about losing his son. "Never disrespect my dead son," Biden is quoted as saying by Fox Business. Biden never made the latter comment, several sources say.
Here's what really happened, according to the four individuals who were present at the dinner. Ackman was seated next to Biden, who was holding court at the start of the dinner. Biden was talking about Trump, saying, "The president has to be able to keep his word," which he said Trump has not done. At that point 60 Minutes reporter Lara Logan, seated across the table, challenged Biden. "The same could be said of the Obama administration," Logan countered, using the red line in Syria as an example, according to several attendees. "You did nothing," she said, according to these people.
"Biden was irritated," says one person at the table, who said this exchange happened within five minutes of the beginning of the dinner, setting a tense tone that is unusual for these events. "It was very hostile, very in-his-face," says another attendee. "It clearly unsettled him."
Biden started talking about Syria and then maneuvered the conversation back to Trump. "At this point, I'm not going to say anything more," Biden said.
Then Ackman said to Biden, "Why start doing that now?" — a reference to the vice-president's well-known penchant for speaking his mind. One source at the table tells New York he heard it as an attempt to lighten the mood. Ackman confirms that this was his intent.
"Who's this wiseass," Biden then said. He turned to Ackman and added, "Do you want to take this outside?"
Ackman thought Biden was kidding, and others in attendance had the same impression.
Later in the evening, however, someone did ask Biden about his decision not to run for president, and he mentioned the death of his son. All four attendees say that this portion of the conversation was separate from the earlier exchange.
"I have enormous respect for Vice President Biden," Ackman says. "It is unfortunate that a totally false press report would suggest otherwise." At the time of publication, neither Biden nor Logan have responded to requests for comment.
Here's the entire SkyBridge statement, released exclusively to New York:
The SALT Conference and SkyBridge Capital legal and public relations team have made a determination to issue a statement given the overwhelming misrepresentation of facts and false account that was reported by Charlie Gasparino on Friday, June 23rd regarding an alleged incident between Vice President Joe Biden and Bill Ackman.

 

For over nine years, the SALT Salon dinner have operated under Chatham House Rules, with participants abiding by these principles as they are clearly defined at the beginning of the meal. Again, given the recent breach of confidentially – and, perhaps more importantly, the misrepresentation of facts and false narrative that was inaccurately reported by Charlie Gasparino – the SALT Conference and SkyBridge Capital legal and public relations team have made a determination to issue this statement. 

 

Several senior employees of SkyBridge Capital and SALT Conference speakers – including leading business professionals, television personalities and investors – who were present at the dinner can verify that Mr. Gasparino's account is extremely inaccurate. As such, for the first time in nine years, we feel it necessary to provide comment on the Salon Dinner.

 

While Vice President Biden was providing his commentary on Syria and the red line, the conversation suddenly shifted to the 2017 election and current administration, with Vice President Biden being asked to comment. The context of the conversation was the current political environment and administration; not, the untimely death of Beau Biden. In fact, that subject did not come up until later in the evening.

 

Again, given Mr. Gasparino's inaccurate account and breach of confidentiality, we have felt it necessary to issue this statement. Note – we will have no further comment on this matter.