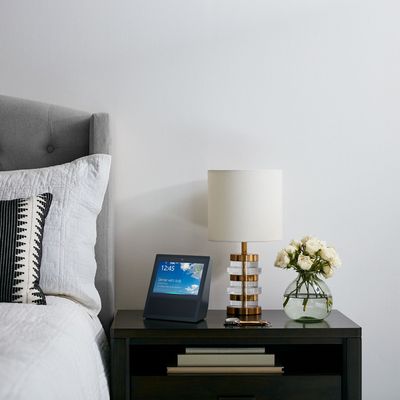 The Echo Show in all her glory. (Yes, the Echo Show is a female.)
Photo: Amazon
Amazon's new Echo Show takes the brand's impressive smart-speaker line a step further by adding a camera and a touch-screen display, giving users the ability to play movies, get real-time news updates, and host video chats — all from one stationary, voice-activated device. Retailing at a steep $230, the Show is the most expensive of all of Amazon's smart speakers. But: Is it worth it?
The Main Takeaways
Its design isn't going to blow you away…
The reviewers all agree on one thing and one thing alone: The Echo Show is, at best, plain. Reviewers lamented the Echo Show's triangular shape with strangely poetic descriptions, such as "reminiscent of a black doorstop," "[like] a big, black block of cheese: chunky and not totally unappealing," and "straddl[ing] the line between unassuming and plain." The design in question more or less looks like the love child of a landscape-facing tablet and a boxy speaker, and is roughly seven-inches tall by seven-inches wide by three-inches deep. It's almost as if the Amazon design team took the physical manifestation of the word "inoffensive" and merged that with the aesthetic appeal of a SkyMall magazine's tech section. (Alexa, is SkyMall still around?)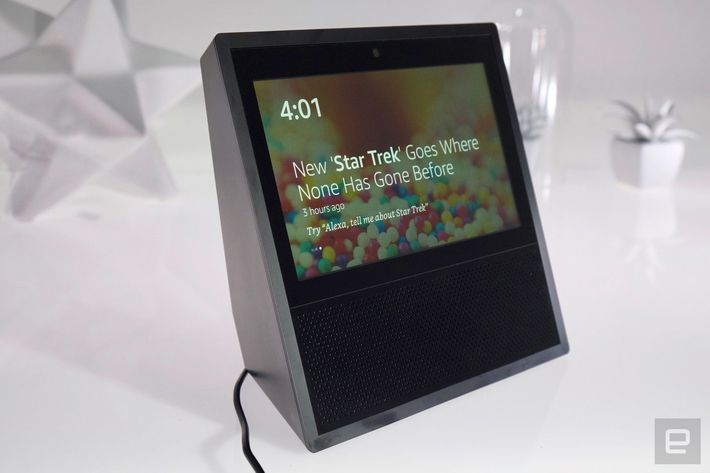 … but the simple interface is great.
Despite the fact that its minimalistic exterior reminded many users of a utilitarian dystopia, the simplicity of the Show's interface was by far one of the most highly praised aspects of the device. Unlike Amazon's other touch-screen products, the Show doesn't have an app store or static home page; instead, the screen component exists primarily as a means to support the traditional, voice-control-based Alexa experience. (An aspect many reviewers found to be particularly useful when in the kitchen and inexplicably covered in some combination of soap and/or dough.)
If you ask Alexa how the weather is, the screen will show an overview of the upcoming week as she tells you about the day. Forgot how to make pasta? Alexa will pull up a recipe for you to read instead of dictating the instructions to you like she previously did. The Echo Show also boasts a karaoke sing-along setting where the lyrics to whatever song you're listening to — so long as you're using Amazon Prime audio, of course — scroll by as you jam out.
Video calling is cool, but the new "Drop In" feature is creepy.
One of the most polarizing features among reviews by far was Drop In. Drop In essentially gives you the ability to insert yourself into someone else's Echo Show, completely unannounced, as part of a sort of video-chat-like experience. There's no option to accept or deny a call, you just, well … Drop In to their screen.
Although the use of this feature can be restricted to a specific list of contacts chosen by you, it was deemed to be pretty goddamn creepy by most reviewers — Wired called it a modern day "Here's Johnny" moment. This aspect of the experience aside, the overall reception of the Show's video-calling abilities was actually rather positive. Reviewers appreciated its hands-free display and its speakers' ability to fill the room. (Although, many did note that for $230 a pop the sound quality could have been better.)
Should you get one?
All in all, the question that the majority of reviews struggled with was: What sort of customer is the Echo Show for? This is a tricky one, because, for many, the Show came across as a hybrid of some of the more established gadgets out there. It's a smart speaker but with a display; it's a touch screen but not a tablet; and it's a step above the other Echo products but not by that much.
This led the majority of reviewers to conclude that unless you're an avid Alexa fan — or constantly getting your tablet dirty when trying to use it in the kitchen — you should probably wait a bit before buying the Echo Show.
Heads up: If you buy things through our links, New York Magazine may get a cut of it.