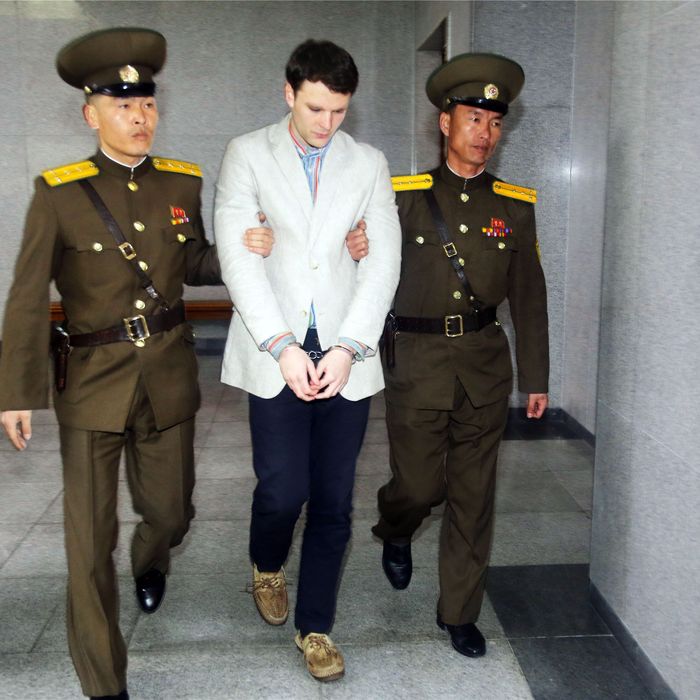 Otto Warmbier arrives at court for his trial in Pyongyang on March 16, 2015.
Photo: Lu Rui/Xinhua/Getty Images
Following the death of University of Virginia student Otto Warmbier on Monday, shortly after he was released from a North Korean prison, President Trump said in a statement that his passing "deepens my administration's determination to prevent such tragedies from befalling innocent people at the hands of regimes that do not respect the rule of law or basic human decency." Obviously Warmbier's death increased tensions between the two nations, but it's unclear what Trump might do to retaliate against Kim Jong-un's regime.
Warmbier's family said they learned last week that the 22-year-old had been in a coma since March 2016. The North Koreans claim that he fell into a coma after contracting botulism and taking a sleeping pill, but U.S. doctors say it appeared the oxygen supply to his brain was cut off. Though doctors could not say what exactly drove Warmbier into a state of "unresponsive wakefulness," several lawmakers said he was "murdered" by the North Koreans.
"Let us state the facts plainly: Otto Warmbier, an American citizen, was murdered by the Kim Jong-un regime," said Senator John McCain. "In the final year of his life, he lived the nightmare in which the North Korean people have been trapped for 70 years: forced labor, mass starvation, systematic cruelty, torture, and murder."
McCain added that in addition to its other hostile actions, the dictatorship "has escalated to brutalizing Americans, including three other citizens currently imprisoned in North Korea. The United States of America cannot and should not tolerate the murder of its citizens by hostile powers."
Similarly, Democratic senator Benjamin Cardin said, "Otto is dead because of Kim Jong-un's repressive, murderous regime," and North Korea "must be held accountable for their continued barbaric behavior."
Most of the lawmakers who expressed their sadness and outrage over Warmbier's death weren't specific about how exactly the U.S. should respond. One option is for Congress or the Trump administration to place new restrictions on Americans traveling to North Korea.
While studying abroad in China, Warmbier decided to take a five-day trip to North Korea with Young Pioneer Tours, which says it offers "budget tours to destinations your mother wants you to stay away from." He was arrested while headed back to China for allegedly removing a propaganda poster. The company announced on Monday that in light of the "tragic outcome" they "will no longer be organizing tours for U.S. citizens to North Korea."
Last month Representatives Adam Schiff and Joe Wilson introduced the North Korea Travel Control Act, which would require licenses for American citizens to travel to the country. Americans would be barred from visiting as tourists.
"Tourist travel to North Korea does nothing but provide funds to a tyrannical regime — that will in turn be used to develop weapons to threaten the United States and our allies," Wilson said. "Worse, the regime has routinely imprisoned innocent foreign civilians and used them as bargaining chips to gain credibility with the West."
Only Congress can impose a full travel ban, and they're usually hesitant to do so. But as Gordon Chang notes in Forbes, federal law states Americans' foreign travel can be restricted in certain instances:
Section 211a of 22 U.S. Code is interpreted as allowing the Federal government to maintain such bans with regard to only three instances: countries at war with the United States, "where armed hostilities are in progress," and the instance relevant here, "where there is imminent danger to the public health or the physical safety of United States travelers."
Secretary of State Rex Tillerson told a House committee last week that the administration may implement such a ban. "We have been evaluating whether we should put some type of travel visa restriction to North Korea," Tillerson said. "We haven't come to a final conclusion, but we are considering it."
On Monday, Tillerson said that the U.S. holds "North Korea accountable for Otto Warmbier's unjust imprisonment," and demands the release of the three other Americans still being held by Pyongyang. However, he did not mention a travel ban.
Warmbier's death may also put more pressure on the U.S. to urge China to rein in its neighbor, though the situation had already escalated in recent months due to new North Korean missile tests. Trump declared China must "solve North Korea" or "we will," but so far it's unclear what that means, and how his policy differs from that of previous administrations.
Tillerson and Defense Secretary James Mattis were already set to meet with their Chinese counterparts later this week. On Monday, Susan Thornton, the State Department's acting assistant secretary for the Bureau of East Asian and Pacific Affairs, said the goal is to "advance concrete cooperation with China towards a peaceful resolution of the nuclear and missile threat from North Korea." She added that the U.S. is still urging China to use its leverage against North Korea, "including by fully implementing all UN Security Council sanctions."
Last week Tillerson said the U.S. is "moving into this next effort of are we going to have to …. start taking secondary sanctions," but so far the Trump administration has held off on placing sanctions on Chinese companies that do business with North Korea.
Bruce Klingner, a senior research fellow at the Heritage Foundation's Asian Studies Center, told CNN that the Trump administration isn't imposing secondary sanctions due to the "naïve belief that President Xi will do more than China has in the past," but it's time to stop holding back on China. "If ever there was a wake up to call to greater action, it's Otto's death," Klingner said.