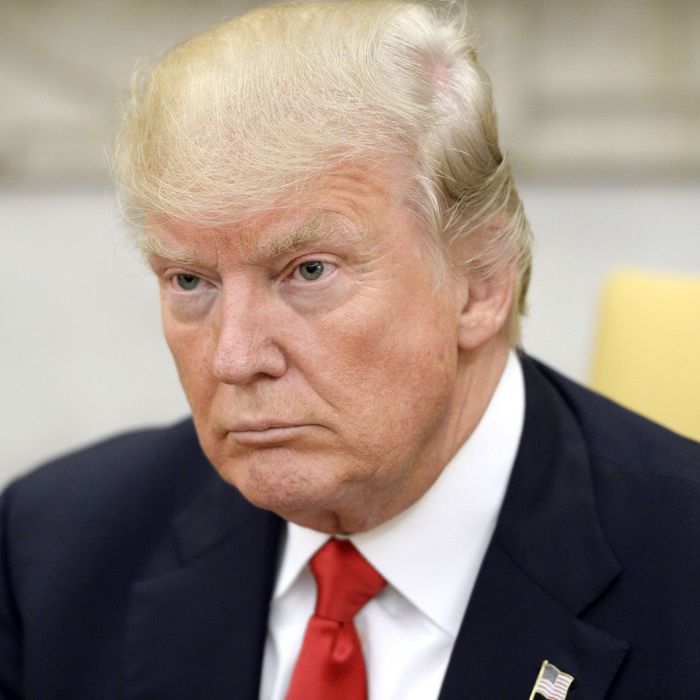 Trump.
Photo: Olivier Douliery - Pool/Getty Images
Like the rest of the country, President Trump will be closely watching former FBI director James Comey testify to the Senate Intelligence Committee Thursday morning.
Unlike the rest of the country, he'll be surrounded by a legal team and political advisers, all prepared to "accidentally" spill their coffee on his phone if he picks it up to tweet.
Trump's Comey-testimony war room will be in the White House dining room, Bloomberg reports. He won't be "glued" to the TV, CNN's Jim Acosta has heard, but watching as time allows. That's still too much watching for many Republicans, who have suggested that Trump not tune in at all.
The biggest question after how he'll watch, though, seems to be whether he will tweet. A D.C. bar offering free drinks for every tweet Trump sends during the testimony hopes not. His aides and lawyers are also hoping he stays quiet and are trying to "keep him busy Thursday with other events," the Post reported Tuesday.
But as one official told Politico, "But if he wants to watch it, it's not like we can say, 'oh, the TV doesn't work.'" Notably, Trump's first official event of the day isn't until 12:30 p.m.
With the testimony nearly set to begin, no one is sure whether Trump will be able to keep himself from firing off a real-time reply to Comey's testimony. But if you listen to longtime Trump whisperer Roger Stone, it's almost sure to happen.
"He's not going to take an attack by James Comey laying down," Stone told the Post this week. "Trump is a fighter, he's a brawler and he's the best counter puncher in American politics."