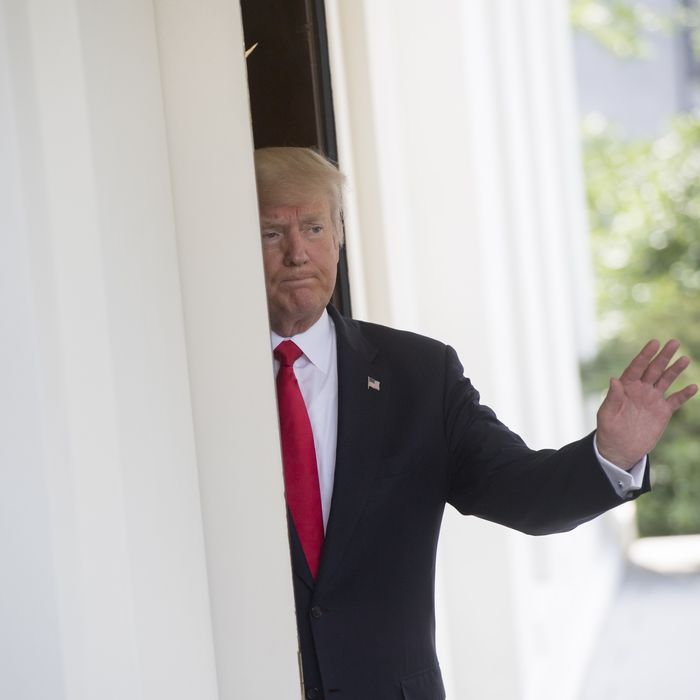 You'd think a CEO would know a lot more about the dangers of toxic company culture.
Photo: Saul Loeb/AFP/Getty Images
The Trump administration's penchant for chaos, controversy, and legal uncertainty is hurting its ability to recruit Republican talent to help it run the government, according to a new report in the Washington Post. Almost 30 Republican operators who have been approached about taking jobs in the administration have told the Post that they have turned down or are leaning against the opportunities, citing anxiety about Trump's temperament and his record of disloyalty and mistreatment toward his senior staff. Some have even consulted professional headhunters over whether or not working with Trump could cause permanent damage to their reputations, or are worried about potential legal expenses down the line should current or future scandals require as much. Ultimately, it seems the typical sacrifices that GOP job candidates would normally be more than willing to make in exchange for the pomp and prestige of working in the White House are no longer worth it for many.
The White House denies that they are having any problems sourcing talent, of course. Press Secretary Sean Spicer even made it sound like they were, in fact, overwhelmed with interest. "I have people knocking down my door to talk to the presidential personnel office," he claimed in response to the story.
According to the Post's sources, however, the only jobs the White House hasn't had trouble filling are mid- and entry-level positions, but not for the top roles that require more discerning and experienced candidates. In addition, the Trump administration has already set a historically slow pace when it comes to even trying to fill out the federal government. White House hiring efforts have increased over the past few months, but they are still far behind the pace set by the last two presidential administrations. The Trump administration, for instance, has less than one-third of the confirmed appointees for senior posts that the Obama administration had by this point. Furthermore, the White House has yet to nominate candidates for 415 key administration positions out of a total of 558 requiring Senate confirmation.
Trump and the White House have tried to blame the obstruction efforts of Senate Democrats for the delays, but logistical problems, the Trump team's slow start at tackling its personnel needs, and other issues seem to have had a greater cumulative effect. The White House says it is vetting some 200 people for senior posts, but the sometimes inexplicable delays haven't helped convince anyone, either. "You sit on the tarmac for quite some time, you see smoke coming out of the engine and you say, 'I'm going back to the gate,' " one former George W. Bush administration attorney explained.