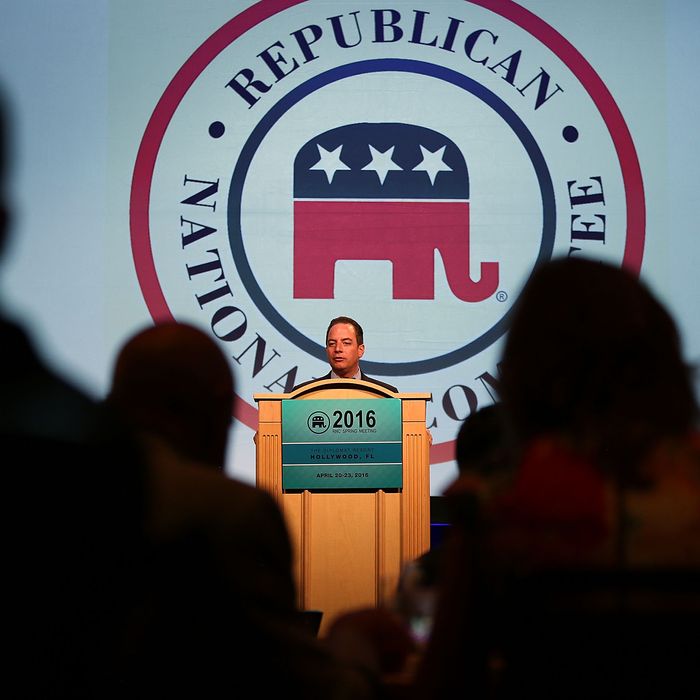 RNC chairman turned White House chief of staff Reince Preibus rallies the troops.
Photo: Joe Raedle/Getty Images
President Trump gave his communications team almost no notice that he was about to fire FBI Director James Comey, then he was reportedly angered by the incompetent response they came up with among the bushes. Trump decided to show them how it was done, and over the next few days he proceeded to contradict the official White House story, possibly admit to obstruction of justice in a TV interview, and suggest on Twitter that he made secret recordings of his conversations with Comey.
Now Trump is hinting that he may live-tweet during Comey's testimony before the Senate Intelligence Committee on Thursday. White House staffers are said to be wary of this plan, which is understandable — and they're also not interested in putting themselves in further legal jeopardy. Thus, according to The Wall Street Journal and Politico, Trump's Twitter musings will be supplemented by responses cooked up by a team of about 60 Republican National Committee staffers.
Once again, the response has been hastily organized. There was talk of creating a war room manned by former Trump campaign manager Corey Lewandowski and old Clinton foe David Bossie, but there were internal disputes about whether they should operate from inside or outside the White House. Current White House aides are already bracing for grand jury summons and exorbitant legal fees, and Trump reportedly had trouble bringing on top legal talent, as few attorneys were interested in the notoriety or in dealing with a famously difficult client.
Thus, on Wednesday, RNC staffers found themselves scrambling to organize a rapid response plan. Here's how the Journal described the operation:
The RNC said it has lined up a host of surrogates to appear on national and local television and radio to support the president, and has a database of research on how Democrats have criticized Mr. Comey in the past.

The party committee's war room includes several young political operatives clipping videos from television and alerting the team to breaking news from a windowless room inside the party's Washington headquarters,
The RNC Twitter account offered a preview after Comey released his opening statement on Wednesday:
There were relatively few Trump surrogates available to respond on TV, but on Wednesday afternoon the president's outside counsel, Marc Kasowitz, summed up one of the main points emerging on the right.
"The President is pleased that Mr. Comey has finally publicly confirmed his private reports that the President was not under investigation in any Russian probe," Kasowitz said in a statement. "The president feels completely and totally vindicated. He is eager to continue to move forward with his agenda."
By Wednesday evening, Team Trump's plans seemed to be in better shape. Politico reported that former deputy chief of staff Katie Walsh and former communications director Mike Dubke were helping to coordinate the effort, and White House Press Secretary Sean Spicer visited RNC headquarters. The party also sent out talking points, which quickly leaked online:
Some complained that the arguments laid out by the RNC made no sense. For instance, here it states that Comey's testimony confirms Trump was telling the truth all along, then several bullets down it notes that no one trusts Comey, and he has a "long history of blatant contradictions and misstatements."
Then again, Trump took a similarly contradictory stance on Comey throughout the campaign. At points, he cited Comey's criticisms of Clinton as proof of her wrongdoing, and in the same breath suggested Comey was working to "rig" the election for Clinton.
Confidently delivering illogical statements is what being a Trump surrogate is all about, and it's probably more effective than Paul Ryan's PR strategy. When asked on Wednesday if he thinks it's appropriate for the president to ask his FBI director for a loyalty pledge, the House Speaker replied: "Yeah, no. I mean, obviously, I don't think that is."
Then he explained that watching the former FBI director tell Congress that story under oath is not the same as reading about it in an anonymously sourced newspaper article, in case anyone was confused.