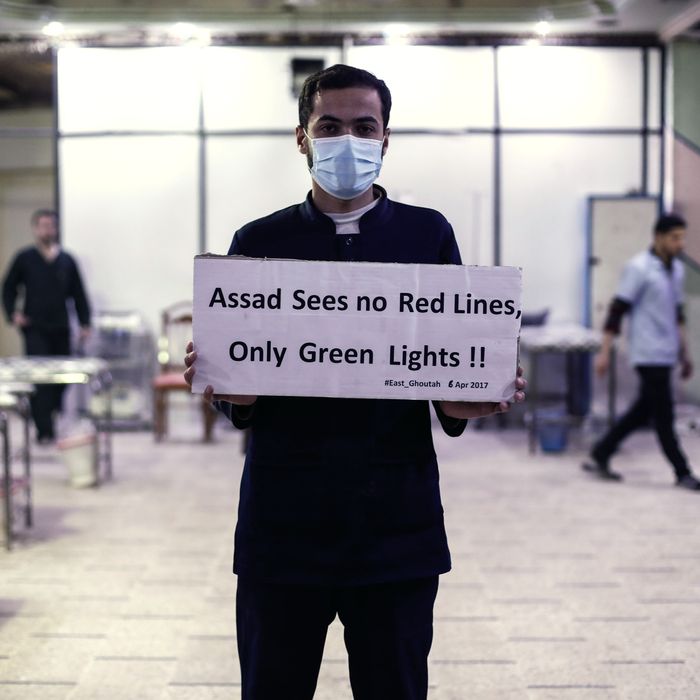 A medical staffer at Damascus Countryside Specialised Hospital protests Assad's chemical attack in Douma on April 6, 2017.
Photo: SAMEER AL-DOUMY/AFP/Getty Images
Amid escalating tensions with Syria, White House press secretary Sean Spicer issued a statement on Monday night saying Syrian president Bashar al-Assad's forces may be preparing another chemical-weapons attack that would cause heavy civilian casualties. It warned that if Assad proceeds, he and his military "will pay a heavy price."
The United States has identified potential preparations for another chemical weapons attack by the Assad regime that would likely result in the mass murder of civilians, including innocent children. The activities are similar to preparations the regime made before its April 4, 2017 chemical weapons attack.




As we have previously stated, the United States is in Syria to eliminate the Islamic State of Iraq and Syria. If, however, Mr. Assad conducts another mass murder attack using chemical weapons, he and his military will pay a heavy price.
The statement was strange for several reasons. First, the national security agencies usually coordinate before releasing such statements, but five U.S. defense officials told BuzzFeed that the White House did not tell them it planned to comment. The New York Times also reported that "several military officials were caught off guard by the statement."
Second, it's unusual for the U.S. to be this specific in its public warnings to foreign nations. Daryl Kimball, the executive director of the Arms Control Association, told the Times that he couldn't recall hearing such a precise warning about the use of banned weapons "in at least the last 20 years."
After Spicer issued his statement, Nikki Haley, the U.S. ambassador to the United Nations, tweeted that Syrian allies Russia and Iran would be held responsible in the event of another chemical attack.
Earlier this month, Russia threatened to target U.S.-led coalition planes that fly west of the Euphrates River in Syria in response to the U.S. shooting down a Syrian Air Force jet.
Trump administration officials did not elaborate on what intelligence suggested Assad was planning a chemical attack, or how the U.S. might retaliate. Following the April 4 attack in Idlib province, which killed at least 70 people, President Trump ordered a cruise missile strike on an air base controlled by Assad's forces.
When the Times asked Marc Raimondi, a spokesman for the White House's National Security Council, to elaborate on the situation, he responded: "We are letting the statement speak for itself."