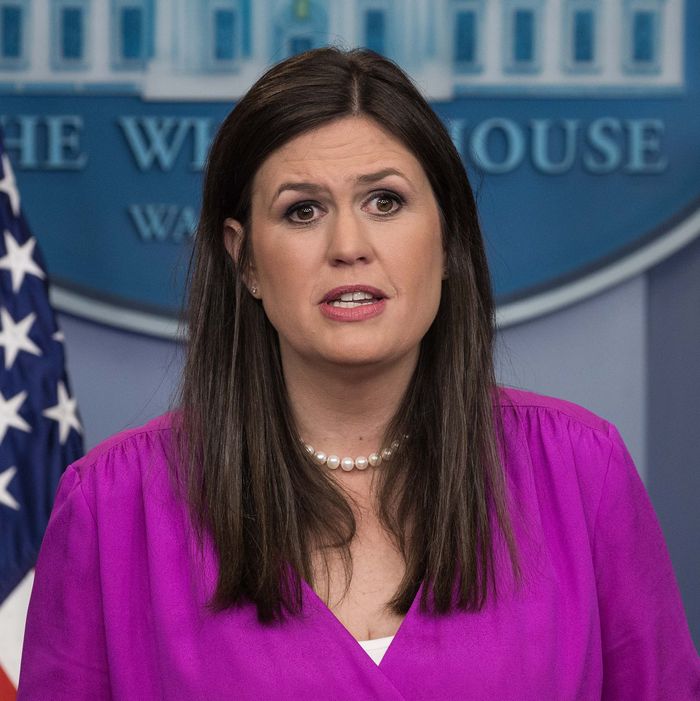 Sanders has some tips for the press.
Photo: NICHOLAS KAMM/AFP/Getty Images
This morning, the White House press corps received an advisory that the daily briefing would take place at 2 p.m. with the press secretary, Sean Spicer, and the Energy Department secretary, Rick Perry — and it would be on camera. Recently, the White House has experimented with denying video and audio coverage of the briefings, so this return to standard access was news. Judging by the performance, however, it seems that going forward the White House may only choose to air live briefings if they serve as opportunities for Trumpian public service announcements questioning the legitimacy of the press.
Before the briefing, Jonathan Swan, a reporter for Axios, tweeted that a "source close to the White House" had told him it would be "must see TV." He added that he had no details explaining why, but we should "assume level 10 trolling."
Roughly 30 minutes after the briefing was scheduled to begin (typically it starts about 15 minutes late), Perry emerged with Sarah Huckabee Sanders, the deputy press secretary. Spicer never showed, reportedly because he was still on Capitol Hill.
Perry took questions for nearly 40 minutes, and it looked like he was having the time of his life. He displayed a lightheartedness not typically seen in the briefing room. When one reporter asked a meandering question, he responded, "I have no idea what you just asked." After someone mentioned the time he called Trump a "cancer" on the Republican Party, Perry leaned his entire body onto the podium and said, smirking, "That has nothing to do with energy!" At one point, he complained about France not wanting to buy beef from Texas, then remarked that he's always felt the country was "a little bit … different." Later he pontificated about the concept of federalism. Perry enjoyed his time with the press so much that he seemed reluctant to leave, answering several questions after he claimed he was taking just one more.
When the White House invites a department official to speak at a briefing, it's usually designed to eat away at the media's time with the press secretary. But as Perry continued talking, Sanders walked over and stood next to him, as several other staffers looked on impatiently. Finally, he was herded away.
"I know you guys are probably a little bit tired since we've been here a while," Sanders remarked in her deadpan drawl. "So you wanna skip on the questions?"
A few reporters laughed.
The first question went to Charlie Spiering from Breitbart News, the publication previously run by the president's chief strategist, Steve Bannon. Breitbart has long served as a cheerleader for Trump, but Spiering's question was a fair one. It also hit a subject the White House seemed especially eager to address.
On Friday night, CNN retracted a story about a Trump transition official, Anthony Scaramucci, and Russia. Three high-level CNN employees involved in the story's publication resigned, and Scaramucci accepted CNN's apology. Spiering wanted to know why Trump was unwilling to do the same.
"Why isn't their response good enough for the president?" he asked.
Spiering's question raised others: The president continues to cite Fox News frequently even though the network was forced to retract an article about the Seth Rich conspiracy not long ago. Do retractions only render a news outlet "fake" when the news outlet isn't fawning?
Sanders provided no clarity. Instead, she used the question as a jumping-off point for what sounded like a rehearsed speech that utilized the CNN retraction to dismiss critical coverage of the president and the investigation into his campaign's potential collusion with Russia as one big "hoax."
"I don't know that it's that their response isn't good enough," she said, her speech slow as she wound up. Then the rest came tumbling out.
"I think it's the constant barrage of fake news directed at this president, probably, that has garnered a lot of his frustration. You point to that report. There are multiple other instances where that outlet you referenced has been repeatedly wrong and had to point that out or be corrected. There's a video circulating now, whether it's accurate or not, I don't know, but I would encourage everybody in this room and everybody across the country, frankly, to take a look at it."
The video she was referring to — the accuracy of which she admitted she couldn't vouch for — was produced by the conservative activist James O'Keefe's Project Veritas. It shows a producer for CNN's medical unit calling the network's Russia coverage "mostly bullshit" designed to get good ratings. O'Keefe has, in the past, been caught deceptively editing footage.
"If it is accurate," Sanders said, "I think it's a disgrace to all of media, to all of journalism. I think that we have gone to a place where if the media can't be trusted to report the news, then that's a dangerous place for America, and I think that if that is the place where certain outlets are going, particularly for the purpose of spiking ratings, and if that's coming directly from the top, I think that's even more scary and certainly more disgraceful. And I hope that that's not the direction we're headed. I hope that outlets that have continued to use either unnamed sources, sometimes stories with no sources at all — we've been going on this Russia-Trump hoax for the better part of a year now with no evidence of anything, things like the success at the V.A. barely get covered. They may get covered for an hour at a time, but this story gets covered day in, day out, and I think America is, frankly, looking for something better. They're looking for something more. And I think they deserve something better from our news media."
Spiering followed up with another question: "Does the president actually expect us not to report on stories of a foreign country trying to influence a presidential election?"
Sanders said she doesn't think that's the case, but she believes the public is more interested in hearing about other things — things that, incidentally, benefit the administration, like "deregulation." She added that it's unfair that when "we make the slightest mistake" there's "an absolute tirade," but the press is, in the White House's view, held to a different standard.
It was at this point that a reporter completely lost it.
"Come on!" Brian Karem, a Playboy correspondent, shouted, breaking with protocol by interrupting an answer to another reporter's question. "You're inflaming everybody right here, right now, with those words. Why in the name of heavens — any one of us, right, are replaceable, and any one of us, if we don't get it right, the audience has the opportunity to turn the channel or not read us. You have been elected to serve for four years at least. There's no option other than that. We're here to ask you questions, you're here to provide the answers, and what you just did is inflammatory to people all over the country who look at it and say, see, once again, the president is right and everybody else out here is fake media. And everybody in this room is only trying to do their job."
Sanders said, "I disagree completely," calling Karem's point "outrageous."
Talk turned to policy, but soon returned to CNN when Sanders called on Jim Stinson, a correspondent for LifeZette. The conservative content mill is run by Laura Ingraham, who has been floated as a potential replacement for Spicer.
"Two questions, just like NBC," Stinson said. Sanders then made a crack about that network, telling Stinson to "be careful" emulating them.
"Given the news about CNN's erroneous story about Anthony Scaramucci," Stinson said, "does the White House believe there are other Russia-related stories from major outlets that have not been retracted and are just as false, including the February 14th story in the New York Times about collusion between the Trump campaign and Russia, which James Comey called into question, which many believe the CNN story was based upon?"
Sanders said she disagreed with much of the Times' reporting, adding that the administration believes any claims of collusion between Trump and Russia are part of a "hoax."
Stinson followed up by musing, "Do you believe that the media should go back and look at anonymously sourced stories on Russia and Trump and maybe start a review process and retract where necessary?"
This, Sanders said, "would be a great idea."
She added that the occasion of CNN's mistake is "a moment where we can all do better."