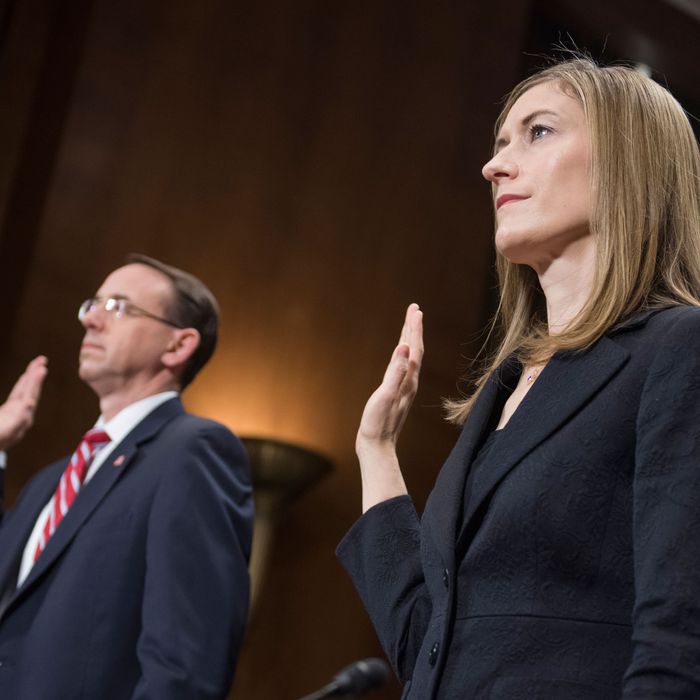 Rachel Brand.
Photo: Tom Williams/CQ-Roll Call,Inc.
Robert Mueller's investigation enjoys some independence from the Justice Department bureaucracy. But not that much independence: The DOJ retains the power to determine the amount of human and material resources the special counsel has at his disposal — and, crucially, whether to ultimately pursue prosecutions based on what he finds.
Since Attorney General Jeff Sessions recused himself from all matters involving the Trump campaign and Russia, those powers now rest with Deputy Attorney General Rod Rosenstein — the official who decided to appoint a special prosecutor in the first place.
But Rosenstein may be forfeiting such authority in short order. On Friday morning, the president publicly suggested that his deputy attorney general had joined a conspiracy against him.
Earlier in the week, we learned that Trump has discussed firing Mueller with his friends and aides. In the wake of such reports, Rosenstein assured the Senate that he would not fire the special counsel absent good cause, no matter who ordered him to do so.
In other words: Trump probably needs to get rid of Rosenstein if he wants to get rid of Mueller. And if the president was tempted to oust the special counsel on Monday, he's sure to be all the more tempted now: In the last 72 hours, the Washington Post and the New York Times reported that the special counsel was looking into whether the president's firing of Comey constituted obstruction of justice, while the Post also revealed that Mueller is examining Jared Kushner's financial dealings with Russian entities.
But even if Trump decides he's obstructed enough justice for the time being, Rosenstein's days overseeing the Russia probe may still be numbered. The deputy attorney general recently informed colleagues that he may have to recuse himself from the Russia investigation, ABC News reported Friday.
This makes some sense. If Mueller is, in fact, investigating Trump for obstruction of justice, Rosenstein is likely to be a person of interest in that inquiry. After all, Rosenstein (perhaps unwittingly) supplied the White House with its initial rationale for Comey's ouster, in the form of a memo criticizing the FBI director's handling of the Clinton email investigation.
Trump almost immediately disavowed this rationale, telling NBC News, "I was going to fire him regardless of [Rosenstein's] recommendation … And in fact, when I decided to just do it, I said to myself, I said, 'You know, this Russia thing with Trump and Russia is a made-up story.'"
Regardless, if Rosenstein goes, by Trump's hand or his own, the fate of the Mueller investigation — and, plausibly, this sorry republic — will rest with associate attorney general Rachel Brand.
Brand boasts the quintessential résumé for a GOP Justice Department appointee. A graduate of Harvard Law School, where she was active in the arch-conservative Federalist Society, Brand clerked for Supreme Court justice Anthony Kennedy before joining a white-shoe law firm, lending a hand to Elizabeth Dole's presidential campaign, and then taking a job in the George W. Bush administration.
During the Bush years, Brand first worked under White House counsel Alberto Gonzales (where she may have learned a thing or two about politicizing law enforcement), and then in the Justice Department's Office of Legal Policy.
Once Bush gave up steering America into epochal domestic and foreign policy crises for watercolor painting, Brand returned to the private sector. There, she helped big business contest mettlesome regulatory standards as chief counsel for regulatory litigation for the U.S. Chamber Litigation Center.
That stint did not endear Brand to congressional Democrats. At her confirmation hearing earlier this year, Vermont senator Pat Leahy declared that Brand "carries a heavily skewed, pro-corporate agenda that would do further harm to the Justice Department and its independence."
Brand disputed that allegation.
"When I was at the Chamber of Commerce, I had a client, the Chamber of Commerce, and, as a litigator there, my job was to file lawsuits and file amicus briefs on behalf of that client," she told the Senate. "If I'm confirmed to this position, of course, I'll have a very different role … My client will be the United States, and my role will be to serve the public interest and the interest of justice, representing that client as best I can."
Brand was also one of 2,604 Iowans to set the Guinness world record for the largest Dutch "klompen" dance seven years ago, according to the Washington Post profile of the associate attorney general from late last month.
So Brand's background is a bit more partisan — and decidedly more right wing — than Rosenstein's. That said, Lawfare's Benjamin Wittes, a Comey confidante who takes Mueller's investigation exceptionally seriously, has confidence in Brand's independence.
Seems like there's a decent chance she ends up fired, too.