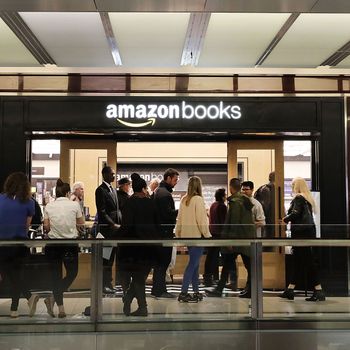 Amazon's newest bookstore, located on the third floor of the Shops at Columbus Circle.
Photo: Spencer Platt/Getty Images
Amazon's first physical bookstore in New York, located in the high-end shopping center at Columbus Circle, was quietly bustling when I visited on a recent muggy spring day around lunchtime. A teenager lounged with one leg over an armchair, tapping away at his phone. In the corner of the store reserved for Amazon's growing collection of gadgets — from Kindles to Echoes to Fire TV Sticks — two middle-aged Germans were getting a demo of the high-end Kindle Oasis, while a group of school kids talked to Alexa (not to snitch, but judging by what I could overhear from Alexa's responses, some of the children may have been cussing). In another corner, a small child ignored the children's books to swipe at a Fire Tablet, playing a game of Crossy Road. A group of business-casual bros from a market-research firm in Chelsea wandered the store, taking notes, asking affable questions of the store employees, and deeply misunderstanding how a sous-vide machine on display works.
Most prominent, though, were the books themselves. The biggest thing you'll notice when you walk into an Amazon Bookstore (there are six others around the country, and Amazon plans on opening another six) is that all of the books are displayed with their covers facing the customer, as opposed to the traditional spine-out presentation on the bookshelves of most bookstores. It has a certain charm, but it also feels like you've wandered into a bookstore that's suddenly run very low on inventory and is trying to take up space.
The second thing you'll notice is that alongside traditional bookstore categories like "Science Fiction" or "Mystery," you'll also find sections like "Books People Finished Within Three Days on Their Kindle" or "Books Rated 4.8 Stars or Above." When deciding what books to stock, Amazon uses a combination of "customer ratings, pre-orders, sales, popularity on Goodreads, and our curators' assessments," a spokesperson told me in an email. There are review cards under most books that use a snippet of a user review from Amazon — misspellings, awkward grammar, and clichés fully intact.
There has already been some garment-rending from writers about the lack of literary sophistication on display at Amazon's stores, and it's a valid criticism. The Amazon Store is not like browsing your local indie bookstore, or even a Barnes & Noble. The "History" section didn't have some standards like Battle Cry of Freedom or The Penguin History of the World, but it did have Bill O'Reilly's Legends and Lies: The Patriots (4.6 stars!). And the store's decision to display titles face out means it only carries about 3,000 titles, far less than it could if it displayed books more like a traditional bookstore with the same amount of space.
Still, my fellow browsers seemed to like the store. Carol Laskin, an attorney from Cherry Hill, was killing time before seeing A Doll's House, Part 2. "This is fun," she said. "I'm seeing books I wouldn't normally see. When you buy a book on Amazon's website, you see more book recommendations, and you're like, 'I've read these already.'"
But it wasn't until I went to check the price on a book — you have to either use the Amazon shopping app on your phone to take a picture of the book cover, or bring it to one of the many scanning machines — that the store actually started to make sense. The app and the scanner will show you two prices: one for Prime members and one for non-Prime members. For The Devil's Chessboard, this meant a discount of nearly 50 percent: $10.70 for Prime members, and $20.81 for schmucks without a Prime membership — a steep enough discount that I ended up buying the doorstop of a book. (The book's back-cover list price is $19.99.)
Hooks pulling casual browsers into Amazon's all-encompassing retail ecosystem are only part of the picture. "This is a company with boundless ambition and a mission to continue to gain market share in almost all the categories that it enters," says Brad Stone, author of the definitive history of Amazon, The Everything Store. "There are so many different reasons that Amazon does something, and it's never binary," says Stone. "They're not mutually exclusive; it's an also, not an instead."
For instance, take the crowded gadget corner I saw in the store. It felt very much like a tiny Apple Store surrounded by books — which, Stone says, may be the exact point. "What Amazon learned from mistakes of a Microsoft Store or a Samsung Store is that those stores can feel pretty ghostly for much of the year when there's not new stuff out there." While Amazon's hardware has gotten much better, with the Kindle and the Echo essentially creating entirely new device categories, a store where all you could do is play around with a Kindle Oasis or cuss at Alexa wouldn't draw much foot traffic. And an empty store can be it's own kind of feedback loop — you never want to be the only customer in a retail outlet.
Stone says that's why the gadgets are surrounded by books. "By building [the gadget corner] into a bookstore — something that gets really consistent traffic, it's not all that seasonal, people love to stick around — you get a kind of energy around the electronics that wouldn't otherwise be there."
But even if you don't buy an Echo or even pick up a paperback, Amazon is still fulfilling its goal. "They take a long-term view with their relationship with the customer," says Stone. "So they might sell an Echo or a book at cost — or they might even lose a little bit of money — but an Echo really only works with a Prime subscription." Even Prime itself may be a money-loser for Amazon at first — fulfilling all those two-day shipping orders isn't cheap. "But if you're a Prime member, look at your own spending history. You're spending twice as much in year two, and in year three, you're spending three times as much. So, while the Amazon Store might be entering into what looks like an unprofitable relationship with the customer in year one, five years down the road, they become a great customer."
There's also the fact that the book format that Amazon truly dominates, the e-book, is on the decline after years of steady growth, while physical book sales are up. You can, of course, buy physical books from Amazon's website, but there's something to be said for being able to pick up and flip through a book, particularly in some of booksellers' biggest markets: children's books and cookbooks. Amazon's retail space gives prominent space to both in its store, along with physical books that have never made the jump to the e-reader, like graphic novels.
So Amazon Bookstores work as a way to lure people into Prime memberships, sell them a gadget or book, or just establish a deeper relationship with a customer. But could there be another gambit at play here? Is Amazon attempting to throw some sharp elbows into the remaining brick-and-mortar competitors?
If so, booksellers don't seem overly worried about it. "The good news is, despite a lot of popular presumption, brick-and-mortar stores are doing well," says Oren Teicher, CEO of the American Booksellers Association, which represents independent bookstores. Teicher doesn't see an existential threat to his members' business from Amazon's physical bookstores. "What we do is very different. Indie bookstores thrive because the people who work in those bookstores are passionate about the books they sell," he says. "Frankly, the Amazon Stores are largely a different store. They're taking books that already work well, and that's fine for them, but that's a very, very different proposition."
Which isn't to say an Amazon Bookstore can't have an effect on business. Teicher relates the story of one of his members that owned a bookstore about a half-mile away from the first Amazon Bookstore in Seattle. "The first year or so, it had an effect, but that leveled off. There is curiosity when an Amazon Store opens, but people come back. We just continue to do what we do, which is be a place to be."
The Manhattan location is unlikely to threaten local bookstores, mainly because there aren't many local bookstores nearby. There's Argosy Books, about a mile away at 59th and Park, but it specializes in rare and old books, not in copies of Bossypants. There's St. Paul Books & Gifts, just a few blocks away from Amazon's bookstore at 59th and 9th, but it's located inside the Church of St. Paul the Apostle and specializes in religious titles, like Coming Down the Mountain and Would You Baptize an Extraterrestrial? (Of course you would.) And Barnes & Noble, perhaps the only outlet that should be worried about Amazon's bookstore push, is a mile and an annoying subway ride away at 46th and 5th.
Amazon has certainly shown a willingness to play rough in the past, but its physical stores don't seem to be an attempt to force anyone out of the game. Indeed, it's possible and even likely that the stores will operate at a loss for years to come. Per Amazon, it's opening up bookstores because "we hope we can offer some innovative customer experiences, and we know how much people love to discover great books. Books were our starting point 20-plus years ago, and it's still our heart."
Or, as Stone puts it: "Amazon is all about creating a persistent, and even lifelong, connection with the customer, and maybe books in some way are a little bit of bait. You're able to come in and have that interaction with the brand that makes them more likely to do that sort of thing next time." By entering the brick-and-mortar business, the company has yet another avenue to move a few more units, and more importantly, bind you and your Amazon account even tighter together.