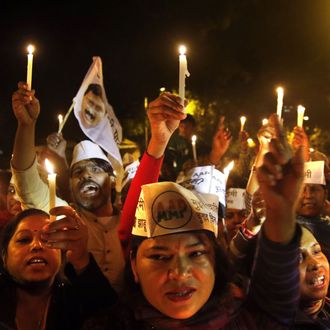 Photo: Subrata Biswas/Hindustan Times via Getty Images
Last week — though it feels like we've lived a year's worth of Uber news since then — Eric Alexander, Uber's then-president of business in Asia, parted ways with the company after Recode revealed he had tracked down medical records of a woman who was raped by her driver in India in 2014. (He showed the records to Uber SVP Emil Michael, who resigned earlier this week, and CEO Travis Kalanick, who has since taken an indefinite leave of absence.) Alexander, and other executives at Uber, reportedly believed the woman might have been lying about her rape and the incident could have been falsified by Ola, an Indian Uber competitor. Now, the rape victim — who lives in Texas and remains anonymous — is suing all three men for "intrusion into private affairs, public disclosure of private facts and defamation," the New York Times reports.
Jane Doe's rapist, Shiv Kumar Yadav, was brought to trial in India in 2014 and is currently serving a life sentence. (Uber was banned in Delhi until June of 2015 as a result of the incident.) In 2015, Doe brought a different suit against Uber for failing to properly background check Yadav. She later withdrew the suit and agreed to mediation. Doe is represented by Douglas Wigdor, who filed the suit in California courts earlier this week. "Rape denial is just another form of the toxic gender discrimination that is endemic at Uber and ingrained in its culture," Wigdor said, the Times reports.

Uber's misogynistic culture and rampant sexual-harassment problems have been making headlines — though employees have known, and complained, about them for years — in recent months. Back in February, ex-Uber engineer Susan Fowler published a damning blog post about her experiences at the company, prompting a months-long independent review by former U.S. Attorney General Eric Holder. The report was released earlier this week and its first recommendation was the company "review and reallocate" Kalanick's duties.