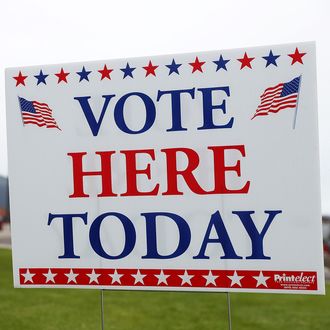 Photo: Justin Sullivan/Getty Images
A new report from Gizmodo and cybersecurity firm UpGuard has revealed that a ton of voter data used by an RNC-linked analytics firm was publicly accessible for nearly two weeks earlier this month. Files belonging to the firm Deep Root, which included an amalgamation of other voter-data sources, matched voter registration data with other online information in order to better help Republicans target potential supporters.
This type of operation is not that surprising — voter-targeting operations have grown incredibly sophisticated over the last decade as more voters flocked to sharing personal info online. That the data was left publicly accessible, without even simple password protection, is more shocking. But the data does provide a glimpse into just how extensive the targeting has gotten.
From Gizmodo:
Some of the data included in Deep Root's dataset veers into downright bizarre territory. A folder titled simply "reddit" houses 170 GBs of data apparently scraped from several subreddits, including the controversial r/fatpeoplehate that was home to a community of people who posted pictures of people and mocked them for their weight before it was banned from Reddit's platform in 2015. Other subreddits that appear to have been scraped by Deep Root or a partner organization focused on more benign topics, like mountain biking and the Spanish language.
Most likely, Deep Root scraped those subreddits after a FiveThirtyEight analysis discovered which subreddits members of r/The_Donald also frequented. The data can then potentially be matched with voter-registration information in order to generate more personalized calls to action. In theory, any of your social-media information can be pulled into public voter-roll information in order to generate a much more comprehensive picture of who you are, what you care about, who you're most likely to vote for, and what issues are most likely to get you to the polls. Depending on the target, campaigns can then use this to get you to a polling place, or discourage you from going to one.