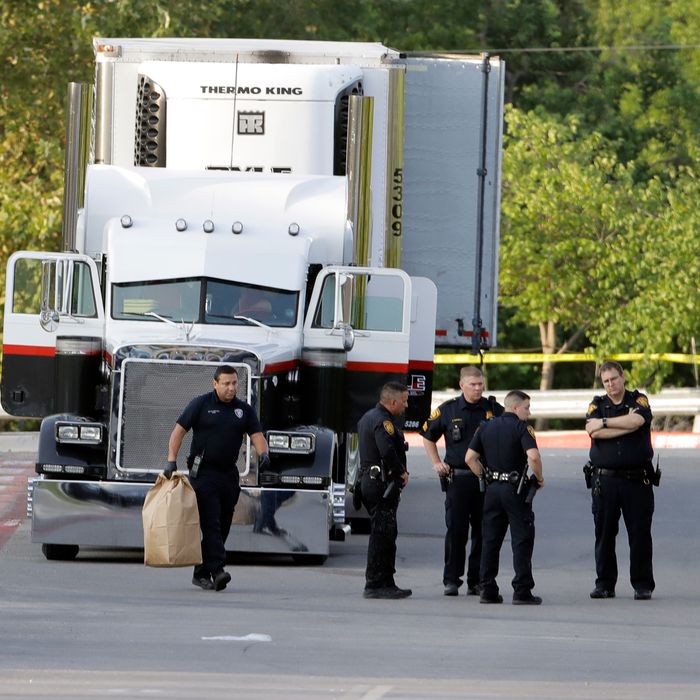 It was a refrigerated truck, but the refrigeration system was not operational.
Photo: Eric Gay/AP
Eight men, all likely undocumented immigrants, were found dead inside a sweltering tractor-trailer parked behind a Walmart store in San Antonio, Texas, early Sunday morning. Later, one of the 30 people who was originally found alive in the trailer died at a local hospital. Almost 20 of the immigrants had life-threatening injuries and needed immediate medical attention. The other victims were treated for less serious injuries, including exhaustion and dehydration. The immigrants, men and women in their 20s and 30s, as well as two 15-year-old children, were discovered after one of them, appearing disoriented, approached a Walmart employee and asked for water. The employee gave the man water and then called the police.
San Antonio fire chief Charles Hood told reporters that when paramedics arrived they found the immigrants "very hot to the touch" and with heart rates over 130 beats per minute. There was no sign of water inside of the trailer, which did not have a working air-conditioning system and could have thus reached a temperature of 115 degrees during the recent San Antonio heat. The nine people who were killed are believed to have succumbed to heat exposure or asphyxiation, according to police. Many of the injured may have suffered irreversible brain damage, as well.
The driver of the truck, 60-year-old James M. Bradley Jr. of Florida, was arrested at the scene. The hunt is also on for more suspects, and the Department of Homeland Security has joined that investigation. Store surveillance video showed that a number of vehicles had come and picked up survivors from the trailer prior to officials discovering it, so it's possible a lot more than 38 people had been inside. Police said they did not know the victims' country of origin, or where they were headed to in the U.S. The use of tractor-trailers for human trafficking in the region has been on the rise, according to the San Antonio Express-News:
Border Patrol agents in Laredo have reported an increase in smuggling attempts in tractor-trailers in recent weeks, starting with the discovery of 44 people from Mexico and Guatemala discovered after police stopped an 18-wheeler on June 19 near one of the city's international bridges.




On July 7, agents found 72 people from Mexico, Ecuador, Guatemala and El Salvador inside a locked trailer in the same part of town. The next day, they found 33 people from Mexico and Guatemala inside a trailer stopped at the Border Patrol checkpoint on Interstate 35. In another incident last week, agents at the checkpoint found 16 people inside a locked trailer, according to a news release from Border Patrol.
In 2003, 19 immigrants were killed after their smugglers abandoned them in the back of a trailer in Victoria, Texas.
This post has been updated to include the news that a ninth person later died after being transported to the hospital.