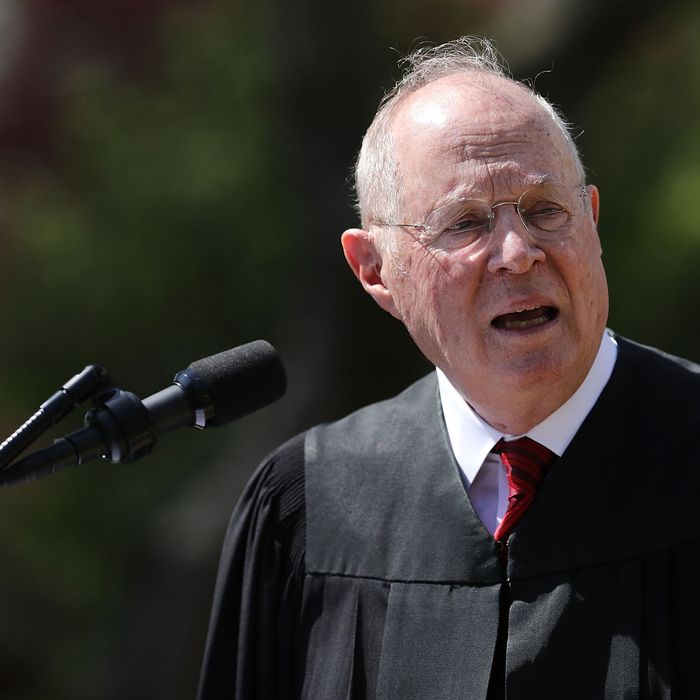 Photo: Chip Somodevilla/Getty Images
Last week rumors reached a fever pitch that Supreme Court Justice Anthony Kennedy might announce his retirement as the current SCOTUS term ended. But he didn't. Then a few days later, Kennedy himself supplied evidence he is considering retirement next year, probably just before the October 2018 term of the Court begins. Is this "story" anything more than a back-and-forth guess-a-ganza that won't matter until Kennedy retires — or doesn't?
Not exactly. The earlier Kennedy rumors delighted conservatives and panicked liberals because they presented a fait accompli: Donald Trump would choose a successor from the same Federalist Society–Heritage Foundation list of pre-vetted conservative jurists that produced Justice Neil Gorsuch. Subsequently the GOP Senate, having already "nuked" the filibuster for Supreme Court confirmations, would rubber-stamp the appointment. Progressives, especially those who care about reproductive rights, would wail and gnash their teeth as they watched what would likely be the fifth vote to overturn or significantly modify Roe v. Wade ascend to the High Court. They would have been unable to do anything other than hope the new justice had an unlikely change of heart.
A Kennedy retirement late in 2018, however, is another thing altogether.  It might delay the confirmation fight until after the midterm elections, and thereby inestimably raise the stakes for Senate races, presently an afterthought as Democrats aim for regaining control of the House.
Obviously if Democrats could retake control of the Senate they would have enormous leverage over the identity of Kennedy's replacement, particularly if they stay as united as they've been for most of 2017 (while two Democrats voted to confirm Gorsuch, that was only after all 48 voted to maintain the right to filibuster him). They could even bring back the SCOTUS filibuster, effectively raising the threshold for confirmation of any Trump nomination to 60 Senate votes. Or they could, as Republicans did when Antonin Scalia died, simply refuse a hearing for non-acceptable justices and force a compromise, or even keep the nomination on ice until after the 2020 elections, when Democrats might enormously enhance their power.
But it's very difficult to see how Democrats can get to 51 senators in 2018, barring some large and unforeseeable breaks. Currently, Republicans hold 52 seats. Only eight GOP seats are up next year, and six of them are in deep-red states (Mississippi, Nebraska, Tennessee, Texas, Utah, and Wyoming). Yes, two GOP incumbents are theoretically vulnerable: Arizona's Jeff Flake and Nevada's Dean Heller. But Democrats also have to defend 25 seats, ten of them in states carried by Trump last year. If they run the table on all 25 and pick off Flake and Heller — a pretty tall order — Mike Pence would still break a 50-50 tie and Mitch McConnell would keep his gavel, and with it the power to control the confirmation process.
Still, the exact balance of power in the Senate could matter a lot in terms of a SCOTUS confirmation fight that revolves around reproductive rights. Assuming pro-choice Republicans Susan Collins (rumored to be interested in a 2018 gubernatorial race) and Lisa Murkowski are still around, confirmation of a sure-to-overturn-Roe Justice would be dicey if the GOP loses a seat or two. That, in turn, could make the 2018 races a holy war for the right-to-life movement, as well as for pro-choicers.
All in all, if Anthony Kennedy makes it known he's hanging up his robe late in 2018, and/or if another pro-choice justice (e.g., 84-year-old Ruth Bader Ginsburg or 78-year-old Stephen Breyer) leaves soon, the 2018 Senate contest will suddenly assume a whole new significance. House candidates counting on big sacks of cash and thousands of volunteers as the focal point in 2018 would be wise to bank as much as they can right now.