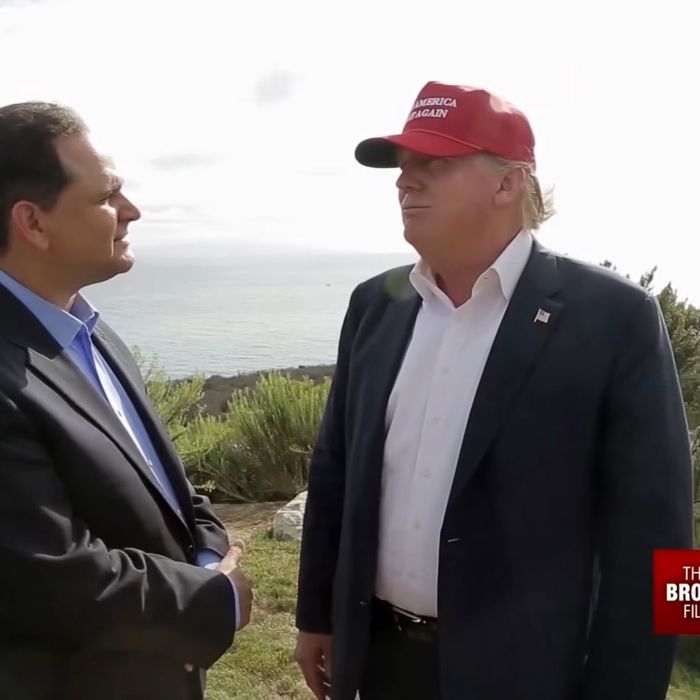 Veteran Christian right journalist David Brody has been a Trump fan from the get-go. He'll need that loyalty to make a case for the president's "spirituality."
Photo: CBN News
Many conservative evangelicals don't seem to care if Donald J. Trump shares their faith, so long as he faithfully checks off the important boxes on their political agenda. Others have surmised that he is a "baby Christian," a newcomer to the Gospel, who like some ancient pagan warlord converted on the frontiers of civilization, must be given time to adjust his crude behavior.
Nobody much until now has taken seriously the idea that the 45th president is a man of deep and abiding faith who is just misconstrued as a heathen. This is, after all, the man who, at a major conclave of conservative Christians, seemed puzzled by the idea that he would ever need to ask God for forgiveness.
But now, one of America's leading Christian right journalists, David Brody of the Christian Broadcasting Network, has made a rather startling announcement:
CBN News Chief Political Correspondent David Brody is writing a new book on the spiritual life of President Donald Trump.




Broadside Books, an imprint of HarperCollins Publishers, has acquired world rights to The Faith of Donald J. Trump: A Spiritual Biography for publication in January 2018.




The new book, co-authored by Brody and Scott Lamb, the "Jesus in the Public Square" columnist for The Washington Times, draws on unparalleled access to the White House to explore the rarely discussed, but deeply important, religious beliefs and worldview of Trump and his advisors.
Joke all you want about this being a work of alternate history — or perhaps even a mystery novel — but it will be fascinating to see how the authors approach their subject. Trump's skimpy religious background is in the mainline Protestantism that conservative evangelicals these days often mock as dead or secularized, and his family's most important religious connection was with Reverend Norman Vincent Peale, the theologically flexible author of The Power of Positive Thinking. Here's how the Trump family biographer described Peale's influence:
Known as "God's salesman," Peale merged worldliness and godliness to produce an easy-to-follow theology that preached self-confidence as a life philosophy. Critics called him a con man, described his church as a cult, and said his simple-minded approach shut off genuine thinking or insight. But Peale's outlook, promoted through his radio shows, newspaper columns and articles, and through Guideposts, his monthly digest of inspirational messages, fit perfectly into the Trump family culture of never hesitating to bend the rules, doing whatever it took to win, and never, ever giving up.
Brody was an enthusiast for the Trump candidacy in 2016, at a time when that remained a controversial position among Christian right leaders. But back then he didn't seem to think Trump's own spirituality was even relevant:
Many evangelicals who support Trump have decided to put "presidential leadership" and "pastoral leadership" in two distinct boxes. Does that make them less Christian? Or are they, like other GOP primary voters, simply at wit's end? Plumbers (politicians) have been called in for decades to fix the toilet (the federal government) but it keeps leaking. Now large numbers of voters want to bring in someone outside the plumbing industry with a track record of success in areas unrelated to plumbing. Will it work? Nobody has any earthly idea. But sometimes you have to take a chance, and some evangelicals clearly are ready to give that chance to Trump.
The prospectus for The Faith of Donald J. Trump indicates Brody isn't going to entirely back down from this assessment:
In part, the authors argue, President Trump won over evangelicals not by pandering to them, but by supporting them and all their most important issues without pretending to be something he's not. He has surrounded himself with believers who think he is the one guiding figure who can return us to the traditional values — hard work, discipline, duty, respect, and faith — that have long been the foundation of American life and truly make America great again in all ways.
It almost sounds as though Brody and Lamb will suggest Trump achieved a spiritual life by acquisition, like a fine resort property. That is indeed an interesting theological proposition, consistent with the Christian right tendency to cast capitalism as a divinely ordained economic system.
Otherwise this could be a very brief book, with a lot of photos.