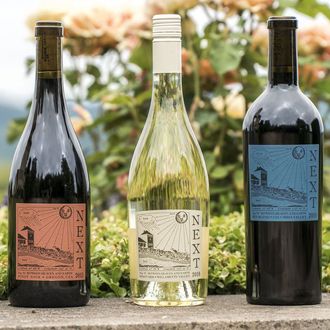 Photo: King Vintners/Amazon
Now that the company has marked its territory in the grocery business — Amazon acquired Whole Foods earlier this summer for $13.7 billion — it looks like wine might be next for the online retailer. Literally. Oregon's King Estate Winery announced this week that it is teaming up with Amazon to produce its first-ever line of direct-to-Amazon wine, called NEXT.
Amazon has been in the business of selling wine online since 2012, and users in select cities can even get bottles delivered via Prime Now. "NEXT is the first wine ever developed from conception to release with Amazon Wine," the winery explained in a press release. NEXT wines include a Pinot Gris, a red blend, and a Pinot Noir, priced at $20, $30, and $40, respectively. The wines will be for sale via Amazon's website and direct from the vintner. Only 1,500 cases of each wine will be released in the first run. Alternatively, buy a cheaper bottle at your local wine store, drink the whole thing yourself, and use the money you saved to drunk shop. On Amazon. Either way, Bezos wins.
Update, July 6, 2017, at 1 p.m.: An earlier version of this post implied that Amazon had partnered with King Estate Winery to create the NEXT wines. "Next is not owned nor developed by Amazon," an Amazon representative told TechCrunch. "The wine is owned and developed by King Estate and can be purchased on Amazon Wine. Amazon's role is to give wineries, like King Estate, an innovative format to launch new brands and reach more customers." Select All regrets the mistake.