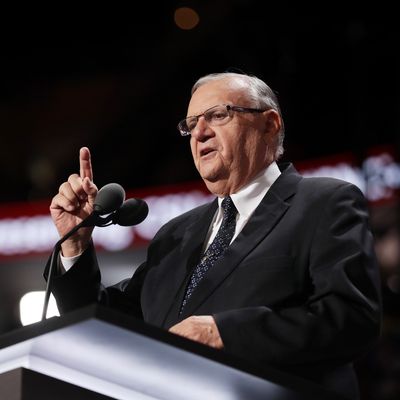 Former Maricopa County sheriff Joe Arpaio convicted of criminal contempt of court for continuing his racial-profiling practices.
Photo: Chip Somodevilla/Getty Images
Last November 8 was a bittersweet day for nativists in Phoenix. On the one hand, Donald Trump won the presidency while carrying Arizona. On the other, their longtime hero, Maricopa County Sheriff Joe Arpaio, lost reelection to Democrat Paul Penzone after an abrasive 24 years in office. It was probably the most expensive sheriff's race in U.S. history (the incumbent reportedly raised and wasted $12 million).
It probably didn't help Arpaio that he had recently been indicted on contempt-of-court charges for defying a 2011 federal judge's order against his department's racial-profiling practices. The legal costs and distractions involved in Arpaio's ultra-high-profile right-wing tenure were clearly getting old for his constituents.
Now the other shoe has dropped, with Arpaio, who liked to call himself "America's toughest sheriff," being found guilty of the misdemeanor violation, which carries a maximum sentence of six months in the hoosegow.
But more important, it probably puts paid to the demagogic former sheriff's long, toxic political career. He is, after all, 85.
He sure held on to the bitter end, however. Even after his decisive defeat, but before he left office, he put on yet another in a long series of events aimed at beating the very dead "birther" horse of Barack Obama's alleged foreign birth — a cause that even Donald Trump had long abandoned.
A few months after he left office, Penzone shut down Arpaio's notorious "Tent City," an outdoor jail that was supposed to exemplify Maricopa County's refusal to pamper criminals.  The new sheriff labeled the facility an expensive failure and a "circus."
You could apply the same words to the entire Arpaio tenure.