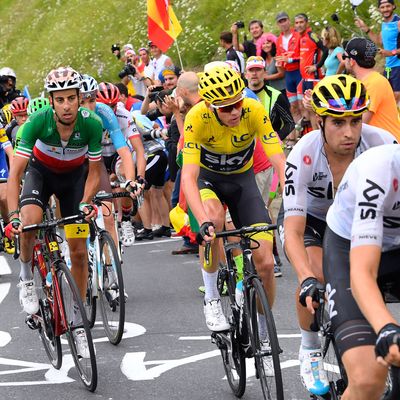 Christopher Froome had the yellow leader jersey, until Fabio Aru (left) pulled ahead.
Photo: Tim De Waele/Corbis via Getty Images
You don't have to be a fan of the Tour de France to appreciate the potential for a shocking upset that just started brewing on a brutally steep Pyrenees mountain pass today. We are 12 stages into the 21-stage, 3,540-kilometer endurance race, and British-Kenyan champion Chris Froome, who's won three of the last four Tours and who everyone was positive would win this one, has lost the yellow jersey.
He's only six seconds down from the new overall leader, Italy's Fabio Aru, which may not seem like much — except that this kind of thing does not happen to Chris Froome. For cycling fans, it's like seeing Shaun White biff it on the snowboard half-pipe and come in fourth in the Sochi Olympics.
The yellow jersey is awarded at end of each stage to the rider with the fastest cumulative time. You gain time by killing it in the mountains, killing it during time trials, or killing it overall as something bad happens (crashes, flat tires, leg cramps) to slow down or eliminate your opponents. To win, you have to be good at all the hardest elements of cycling, rather than just some; a pure climbing specialist might get blown away during a windy, flat time trial, for instance. Out of the field of 198 that started the Tour, somewhere between five and ten had the potential to take the yellow jersey to the finish line in Paris. And of those five to ten, most cycling experts would agree that, barring some crazy accident, Froome seemed invincible.
Generally, he is! He first put on the yellow jersey this year in Stage 5, the first mountain stage. Before now, in his entire career, once Froome has earned the yellow jersey, he's only lost it once mid-race (only to get it back), and never to what is known as a GC, or general classification, rider like Aru — an all-around cyclist who is a genuine threat for the win — and never in the mountains.
Today, up a sadistic final climb, that was at times a 20 percent grade, to the ski resort of Peyragudes, Froome just seemed to run out of gas. The plan, Froome's team manager had said, had been to attack, gain time, and solidify his lead (which at the start of the stage had only been 18 seconds). Instead, it became a scramble to not fall back so far that he lost the entire Tour. In he end, he finished a not-encouraging seventh on the day, 22 seconds behind the stage winner, Frenchman Romain Bardet. Again, these aren't big or insurmountable numbers. But they are troubling. As cycling magazine Velonews put it, "the size of that gap may be less important than the fact that it exists … When was the last time Froome didn't have the legs, even for a moment?"
There's still time, of course, but not as much as nine-stages-remaining seems. Set your DVR — or wake up at the crack of dawn — for tomorrow's must-watch Bastille Day stage, which packs three Category 1 climbs (read: really hard, like 16 percent grade at points) into a very short 101 kilometers. Then after that, there are only two major mountain stages in the Alps (next Wednesday and Thursday) and a time trial on Saturday's penultimate stage, where Froome could possibly get those missing seconds back.
The race is on in a way that it hasn't been since it started. Sure, there were exciting-slash-awful moments, like sprinter extraordinaire Mark Cavendish breaking his collarbone in a crash in Stage 4 and other sprinter extraordinaire Peter Sagan getting kicked out of the Tour for elbowing him to cause it. And that awful crash-tastic Stage 9 in the mountains where the general classification lost two serious challengers, Australia's Richie Porte (was fifth overall, broke his collarbone and pelvis) and Britain's Geraint Thomas (was second overall, broke his collarbone).
Rather than clearing the field for Froome, though, that crash removed his strongest teammate, Thomas, which means he no longer has his best wingman for pulling him up mountains or bailing him out when the going gets tough. This will reverberate through all the mountain stages.
On top of that, Aru is no slouch. He won the Giro d'Italia in 2014 and came in second in 2015. He won the Stage 5 in which Froome took yellow for the first time this year, and the two actually had a kind of on-bike scuffle in Stage 9. Aru attacked Froome — as in took off on his bike to gain time — while Froome was tending to a mechanical problem, which is the biggest ethics violation in cycling: Thou Shalt Not Attack the Yellow Jersey When He's Down. And when Froome caught up, he seemed to deliberately throw his shoulder into Aru to cause him to veer into the crowd. YouTube evidence below:
In other words, there seems to be no love lost between those two. And then there's Romain Bardet of France and Roberto Uran of Colombia, just 25 and 55 seconds back, respectively.
It's definitely going to be a ride worth watching.