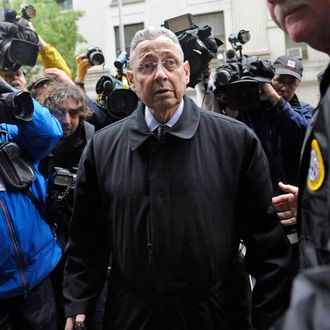 Sheldon Silver during his sentencing last year.
Photo: Louis Lanzano/Bloomberg via Getty Images
A federal appeals court has overturned the corruption conviction of former New York State Assembly speaker Sheldon Silver, reports the New York Times. Once of Albany's most powerful politicians, the Lower East Side Democrat became the target of former U.S. Attorney Preet Bharara's crusade against Albany's culture of corruption, and was found guilty of charges including honest wire fraud, extortion, and money laundering in 2015. Silver was sentenced to 12 years in prison last May.
The federal appeals court relied on last year's Supreme Court decision overturning the conviction of former Virginia Republican governor Bob McDonnell. In a unanimous decision last year, the justices had ruled that in the McDonnell case, the definition used to define "official acts" of corruption had been too broad. As the New York Times reports:
The United States Court of Appeals for the Second Circuit in Manhattan concluded, in light of the Supreme Court's narrower definition, that the jury instructions given by the judge in Mr. Silver's trial were erroneous and that a properly instructed jury might not have convicted him.
Federal prosecutors say they will retry Silver. "While we are disappointed by the Second Circuit's decision, we respect it, and look forward to retrying the case," Acting U.S. Attorney for the Southern District of New York Joon H. Kim said in a statement.
Silver's downfall — along with that of former Republican New York State Senate majority leader Dean Skelos — represented one of the most significant political-corruption prosecutions in recent years.
This post has been updated.