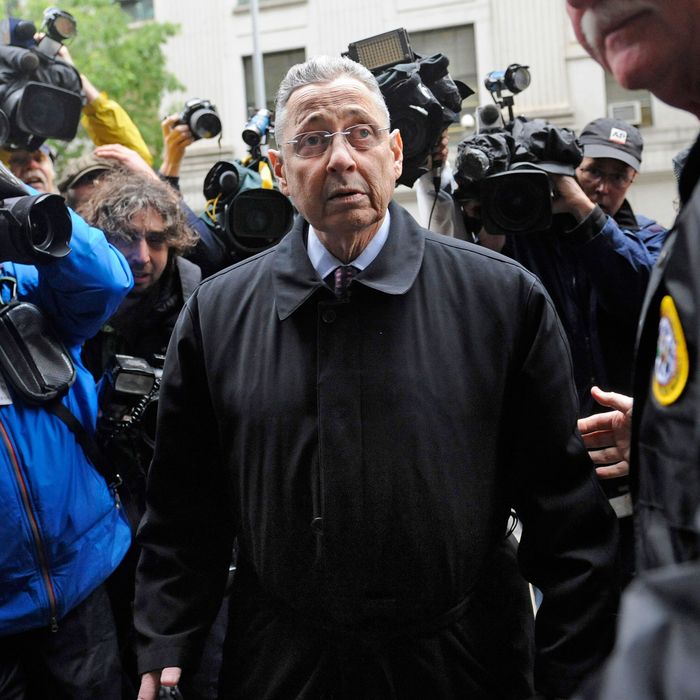 Now at large.
Photo: Louis Lanzano/Bloomberg via Getty Images
When the Supreme Court spared Bob McDonnell from going to prison for a very long time, Chief Justice John Roberts seemed a little troubled by the things prosecutors uncovered during their investigation of the disgraced Virginia governor. "There is no doubt that this case is distasteful; it may be worse than that," Roberts wrote in an unpredictably unanimous decision last year. "But our concern is not with tawdry tales of Ferraris, Rolexes, and ball gowns. It is instead with the broader legal implications of the Government's boundless interpretation of the federal bribery statute."
Following their higher-ups' lead, now three judges on the federal appeals court in Manhattan echoed Roberts's sentiment in their decision to throw out the convictions of former New York Assembly speaker Sheldon Silver, who was indicted, tried, and convicted of a slew of public corruption charges and faced 12 years in prison. Because there's little that upsets New Yorkers more than their politicians getting away with stuff, this is how U.S. Circuit Judge Jose Cabranes tried to break the news to the public — and to Preet Bharara, the wildly popular, fired-by-Trump U.S. Attorney who took pride in his record of going after corrupt Democrats and Republicans alike:
"We recognize that many would view the facts adduced at Silver's trial with distaste. The question presented to us, however, is not how a jury would likely view the evidence presented by the Government. Rather, it is whether it is clear, beyond a reasonable doubt, that a rational jury, properly instructed, would have found Silver guilty."
The key word in that paragraph is "likely," and Cabranes and his colleagues said that they couldn't in their right mind conclude that Silver's earlier convictions for extortion, money laundering, and so-called "honest services" fraud were likely to stand. At least not after the guidance the Supreme Court had handed down in the McDonnell case, which found the justices grappling with what counts as an "official act" under federal anti-bribery statute. There, the high court said that a politician simply setting up a meeting or taking a call with someone isn't an official act that would amount to an illegal quid pro quo. You needed something more.
So Roberts and his crew said that prosecutors needed to prove more. If a scheming, self-dealing politico is to be sent to prison, he or she must make "a decision or action on a question, matter, cause, suit, proceeding or controversy" over a pending matter that "must involve a formal exercise of governmental power." Or to use his or her position to "exert pressure on another official to perform an official act."
Since just about every conviction Silver was nailed for depended on whether he took an "official act," the Second Circuit suggested prosecutors needed to start over. In one scheme, for example, prosecutors accused Silver of pulling strings to award state money to a mesothelioma researcher at Columbia, who would then route mesothelioma victims to his own law firm, netting him millions in referral bonuses. In another, Silver stood accused of receiving secret legal fees from another law firm after he referred two real-estate developers to it as clients. And then prosecutors went after him for trying to "launder" these proceeds.
No matter how awful these facts may have appeared on paper, the Second Circuit ruled as "erroneous" the convictions that resulted from them. Indeed, the court said the definition of "official act" that jurors received at the Silver trial was way too broad, since it encompassed "any action taken or to be taken under color of official authority." That would include setting up meetings, phone calls, and other pleasantries that are the stuff of everyday politics. "[T]he plain language of the instruction at Silver's trial captured lawful conduct, such as arranging meetings or hosting events with constituents," Cabranes wrote. McDonnell changed the landscape.
That's not to say federal prosecutors ought to be disappointed. Notably, the Second Circuit didn't fault the evidence Bharara and his team gathered in pursuing Silver. In fact, they rejected every attempt by Silver's legal team to contest the quality of the dirty deeds prosecutors aired during his five-week trial. So all of that evidence is still very much up for grabs and ready to be reused. That's why Bharara wasn't exactly lamenting the court's reversal on Thursday:
In a statement, Acting U.S. Attorney Joon Kim, also Bharara's second-in-command before Trump fired him, sounded a confident note: Silver will be retried. And he added that they already have enough on Silver to nail him again "even under the new legal standard." In their view, this is not justice denied, and it will only be a matter of time until Silver — "one of the most powerful politicians in New York State history" — gets a just punishment. Again.