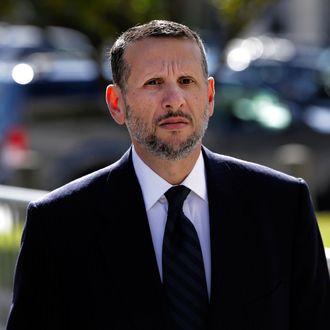 David Wildstein.
Photo: Peter Foley/Bloomberg via Getty Images
David Wildstein, a former Chris Christie ally at the Port Authority and alleged "mastermind" of Bridgegate, will dodge a prison term for his role in architecting in the 2013 political payback plot. On Wednesday, a judge sentenced Wildstein to three years probation and 500 hours of community service, a show of leniency for a political trickster turned star witness for the prosecution.
Wildstein pled guilty in 2015 for his role in Bridgegate and agreed to cooperate with authorities, testifying against his former conspirators in the scheme to shut down access lanes to the George Washington Bridge to get revenge on the mayor of Fort Lee, New Jersey. Wildstein could have faced up to 27 months in prison, but federal prosecutors had requested that the judge consider probation because his cooperation "led directly to the indictment and convictions" of two others involved in the ploy, Bill Baroni, a Christie appointee at the Port Authority, and Bridget Anne Kelly, Christie's former deputy chief of staff.
Wildstein apologized at his sentencing. "It was a callous decision. It was stupid. It was wrong. I violated the law and I am profoundly sorry," he said in court Wednesday. He also had some things to say about his old pal Chis Christie: "We put our trust in a man who did not earn or deserve it. I willingly drank the Kool-Aid of a man I knew since I was 15."
Wildstein's accomplices were found guilty last year. Baroni was sentenced to two years in prison, and Kelly received an 18-month term. Christie has denied any wrongdoing in the Bridgegate plot and faces no criminal charges, but instead of being president he gets to do stuff like this now.