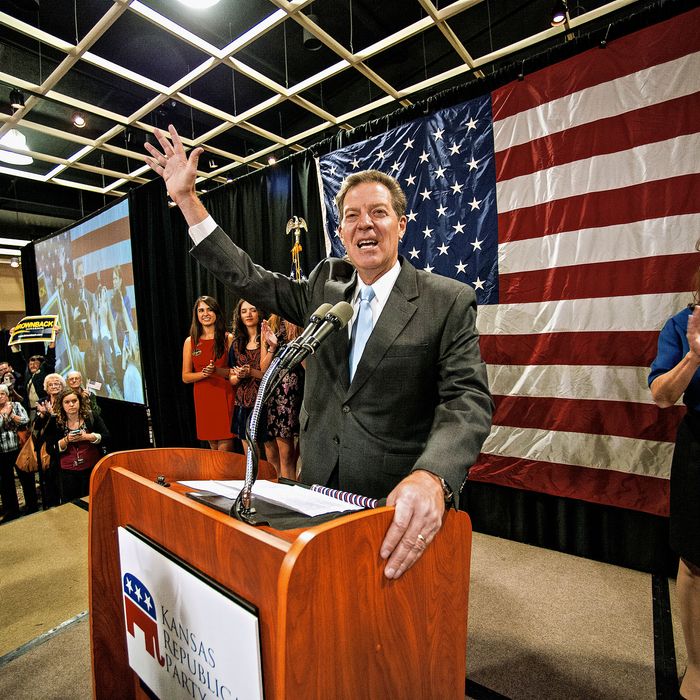 A lot of people don't realize Sam Brownback was one of the nation's chief culture warriors before ruining his state's fiscal health.
Photo: Mark Reinstein/Corbis via Getty Images
The Jaws of Life have come to rescue Sam Brownback from the car wreck his fiscal stewardship made of Kansas: Donald Trump is appointing the Sunflower State's governor to head up the Office of International Religious Freedom. There is no question his departure from Topeka improves the electoral prospects of his deeply divided party: he's dueling with Chris Christie for the title of America's Least Popular Governor. He owes his competitiveness in this matchup to the experiment in supply-side economics he conducted during his first term, with massive tax cuts the GOP-controlled legislature was finally forced to rescind earlier this year, overriding his veto. Politics aside, it could take Kansas years to reverse the damage to public schools and the state's fiscal reputation that the subsequent budget deficits caused, all thanks to Sam Brownback.
It is probably less widely appreciated, however, that his new gig lets Brownback return to the earlier arc of his career: As a two-term U.S. senator, Brownback became known as one of the country's most fervent Christian-right politicians. He was a member of the shadowy conservative Christian power-elite group the Fellowship; a disciple of meta-culture-warrior Chuck Colson; and a former evangelical turned Catholic by way of the controversial conservative group Opus Dei. Unsurprisingly, Brownback was dubbed "God's Senator" in a rather frightening profile by Jeff Sharlet that appeared in 2006. In one prototypical action, in 2004, Brownback traveled to Alabama to be present for the unveiling of a blatantly theocratic Constitution Restoration Act, designed to remove church-state conflicts from the jurisdiction of the federal courts.
But then Brownback's rise hit a large bump in the road. Running for president in 2008, he became engaged in what amounted to a sub-primary against Mike Huckabee for the designation as the Christian right's champion. At the 2007 GOP straw poll in Ames, that great winnower of Republican presidential fields, Brownback finished behind Huck, and quickly faded from sight, while the Arkansan went on to win the Iowa caucuses and become for a while the GOP flavor of the month. His national aspirations dashed, Brownback decided to return to Kansas and run for governor, and the rest is history.
It will be interesting to see how much of his theocratic background Brownback carries into his new gig (assuming he's confirmed by the Senate, which tends to happen more easily with former colleagues). This tidbit from Sharlet's profile might be an alarming hint:
Given to framing his own faith in terms of battles, he believes that secularists and Muslims are fighting a worldwide war against Christians – sometimes in concert. "Religious freedom" is one of his top priorities, and securing it may require force. He's sponsored legislation that could lead to "regime change" in Iran, and has proposed sending combat troops to the Philippines, where Islamic rebels killed a Kansas missionary.
Let's just say Brownback's perspective on "religious freedom" will probably differ from that of his predecessor, Rabbi David Saperstein, a member of the board of People for the American Way, that great institutional antagonist of the Christian right. We can only hope some members of the Senate prepare by reading up on Brownback's first act.