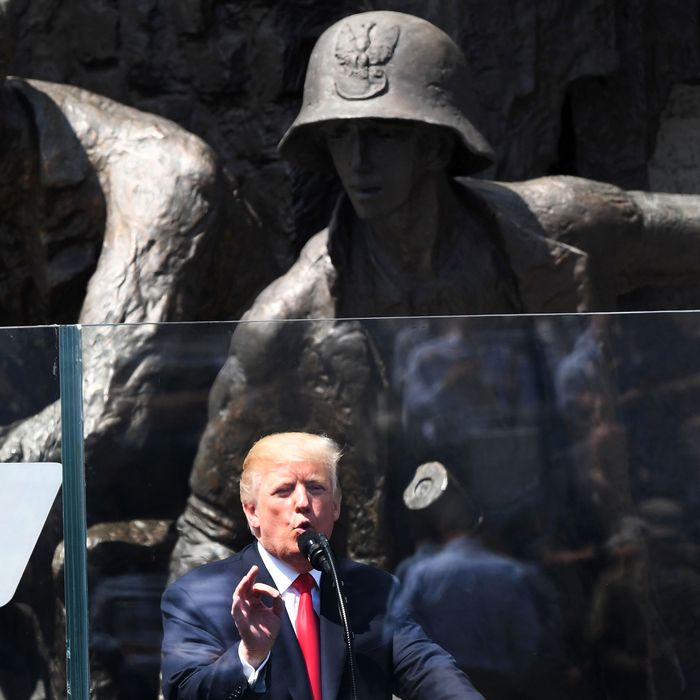 U.S. President Donald Trump gives a speech in front of the Warsaw Uprising Monument on Krasinski Square on the sidelines of the Three Seas Initiative Summit in Warsaw, Poland, July 6, 2017.
Photo: Janek Skarzynski/AFP/Getty Images
"We've come here to your nation to deliver a very important message," President Donald Trump began his speech in Warsaw's Krasinski Square, in front of crowds chanting "Trump," who were bused in specifically for that purpose. "America loves Poland, and America loves the Polish people."
Trump heaped praise on Poland throughout the speech — and on the Polish-Americans, noting that he was "truly proud to have their support in the 2016 election" — calling the Polish people the soul of Europe, recounting the country's struggle against communist rule, and lauding them for meeting their commitments to NATO and fulfilling their promise to invest in European defense. "That is why we applaud Poland for its decision to move forward this week on acquiring from the United States the battle-tested Patriot Air and Missile defense system, the best anywhere in the world," Trump said.
Trump, in honoring Poland, used the opportunity to again chide other European allies for not paying their fair share in defense. "My administration has demanded that all members of NATO finally meet their full and fair financial obligations," Trump said, to a smattering of cheers. "As a result of this insistence billions of dollars more have begun to pour into NATO. In fact, people are shocked. But billions and billions of dollars more coming in from countries that, in my opinion, wouldn't be paying so quickly."
Yet Trump did reiterate the United States' commitment to Article 5, something he left out of his NATO speech during his first foreign trip: "To those who would criticize our tough stance, I would point out that the United States has demonstrated not merely with words but with its actions that we stand firmly behind Article 5, the mutual defense commitment. Words are easy, but actions are what matters."
And the president also took a somewhat tougher line on Russia in his prepared remarks than he did in his press conference with Polish president Andrzej Duda, calling out Vladimir Putin for his actions in Ukraine and Syria:
Trump also delivered an overview of Poland's "triumph" over Soviet rule and quickly pivoted from communism to today's threat of terrorism. "But today we're in the West, there are dire threats to our security and our way of life. You see what's happening out there. They are threats. We will confront them, we will win, but they are threats," Trump said as the crowd broke out again into what sounded like "Trump" chants.
Trump, overall, painted a somewhat dark picture of Europe and the West, saying, "The fundamental question of our time is whether the west has the will to survive." In addition to terrorism, Trump included big government among those existential threats. "Our citizens are confronted by yet another danger — one firmly within our control. This danger is invisible to some but familiar to the Poles," Trump said. "The steady creep of government bureaucracy that drains the vitality and wealth of the people. The west became great not because of paperwork and regulations but because people were allowed to chase their dreams and pursue their destinies."
But, in the end, Trump concluded that the West would, in fact, survive. "I declare today for the world to hear that the West will never, ever be broke," he said. "Our values will prevail. Our people will thrive and our civilization will triumph."
Cheers of "Do-nald Trump" followed after the president wrapped up his speech.
Yet not all his fans were pleased. Some of those shuttled in commplained to The Guardian that they couldn't get spots close enough to the stage and had to stand on the side streets around Krasinski Square because most of the space in front of the podium was reserved for security, media, politicians, other VIPS, and Rudy Giuliani.