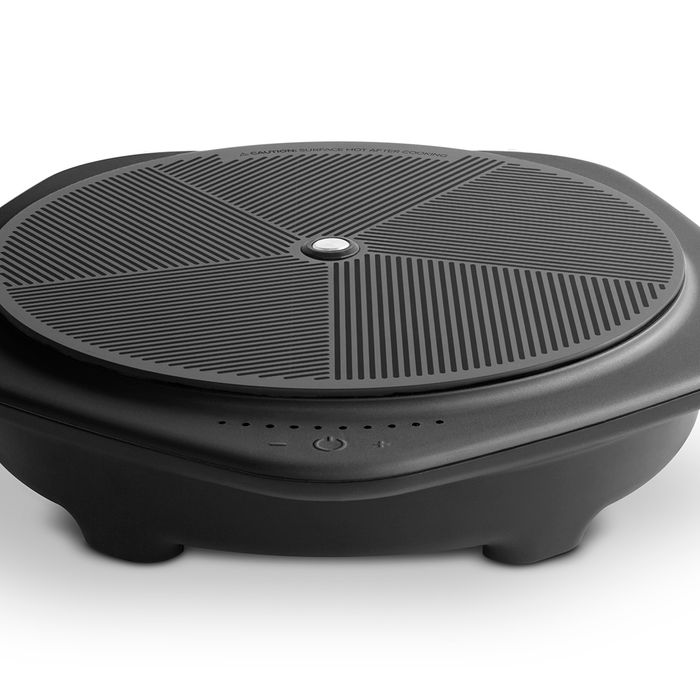 The Tasty One Top, available for preorder.
Photo: Tasty
BuzzFeed's "Tasty" brand has, by all metrics, been a tremendous success for the company. Its recipe videos — tightly edited bursts of food assembly designed to go big on social media — have been viewed 58 billion times across Facebook, YouTube, and Instagram; they're seen by one in four Facebook users internationally, and more than half of American Facebook users every month.
Today, Tasty is rolling out an app for the iPhone, with Android coming soon. If you enjoy Tasty's videos, you'll enjoy the app — it breaks down over 1,700 of their recipe videos into a step-by-step process, which you can swipe through on your phone, making Tasty's quick-cut recipes a bit easier to follow. But the app is table stakes for Tasty's bigger ambition: It wants to sell you a smart hot plate.
Or, to be more precise: Tasty is now accepting preorders for the Tasty One Top, a Bluetooth-enabled inductive cooktop. "It's a fancy way of saying it's an appliance that helps you follow our recipes and cook perfect meals," says the head of BuzzFeed's Product Labs, Ben Kaufman. Pair the One Top to the Tasty app on your phone, use the attached food thermometer, and the app will walk you through every step of cooking, from when to throw garlic into your sauté pan to when to flip your steak. It's available for preorder now for $149 — or $184 with four pieces of Tasty-branded cookware thrown in — and shipping this November.
"Cooking is still intimidating for a large part of the population," says Kaufman. "What really drove us to create a be-all, end-all appliance for the kitchen was, 'Can we really make it easier to actually cook our foods?'" The One Top isn't aiming to be just a really nice hot plate — by using sensors both in the cooktop itself and in a remote food probe, the appliance is promising to be a device that can work as a sous-vide and slow cooker.
Kaufman sees the audience as broadly two markets. "One is the person who loves food but hates cooking. That's a big portion of our audience." For them, the One Top promises an appliance that can make the recipes they've perhaps shared or just watched on Facebook, but with a steady, guided experience. The second, says Kaufman, "is the real foodie." Think people who have read their Harold McGee and maybe have a copy of Nathan Myhrvold's Modernist Cuisine (or at least the app). "There is that market of people who love that real science of cooking." For them, says Kaufman, the appeal is having an appliance that can do a lot while not taking up a ton of space.
The idea that precision-cooking foodies will flock to an appliance from the brand that also introduced the world to "Cheesy Fried Hot Dogs" and "Pizza Bombs" is, perhaps, ambitious. But the One Top — judging purely from it's distinctive, friendly look and promised features — does seem like it could make for a great gift for someone moving into a dorm room or living in a tiny city apartment without much space. The $149 price point is high compared to other induction cooktops out there, but Kaufman was quick to push back on the suggestion that it may be too high. "The value prop to me is precision," says Kaufman. "The brand of Tasty is all about meeting with your friends and learning how to cook, and experimenting with new types of technology. With our One Top, you have confidence that whatever you do is gonna come out well."
The One Top isn't just a brand-building exercise for BuzzFeed or Tasty. "Our ambition is for this to be a profitable business platform," says Kaufman. It's making the cooktop in partnership with General Electric's FirstBuild division, with GE handling manufacturing and a good portion of the hardware design. It allows BuzzFeed to avoid some potential pitfalls of bringing a complicated appliance to market, and the One Top is a limited run to start. It's clear this is an experiment for BuzzFeed, but it's one that comes at an interesting time for the company.
BuzzFeed is still adept at turning out viral content that brands are happy to be a part of; Fossil recently went in for a three-part "Behind the Hands of a Tasty Producer" video series. But BuzzFeed's business model looks shakier than it did three or four years ago. Facebook is no longer as generous with traffic as it was in 2013, and BuzzFeed reportedly slashed revenue targets for 2016 after missing them in 2015. It's gone through seven rounds of fundraising, but a rumored IPO for 2018 was already looking difficult, thanks to the market's general wariness of investing in media companies. That IPO may be even less appetizing for the company after the rough reception that Snap, Inc., and Blue Apron have received in open trading. Finding new ways to bring in more money is key.
Tasty and the rest of BuzzFeed's video efforts reportedly make up half of the company's revenue, and Tasty has already made successful forays into selling real-world products. Its customizable cookbook (you pick seven sets of recipes from selections ranging from "Vegetarian" to "Hangover"), sold only through Tasty's site, was put out last year to immediate success. Kaufman says they've sold nearly 200,000 copies — more than all but two of last year's best-selling cookbooks, per Nielsen BookScan. And earlier this year, it rolled out customizable coffee in a branding partnership with the Today show.
If Tasty can sell cookbooks and coffee, why not a cooktop? After all, the electric pressure cooker Instant Pot has become a sales juggernaut, mainly through word of mouth from happy users (and helped by praise from plenty of websites, including BuzzFeed itself). In the One Top, BuzzFeed may be hoping for a viral hit again — just with a kitchen appliance instead of a pizza bread bowl.