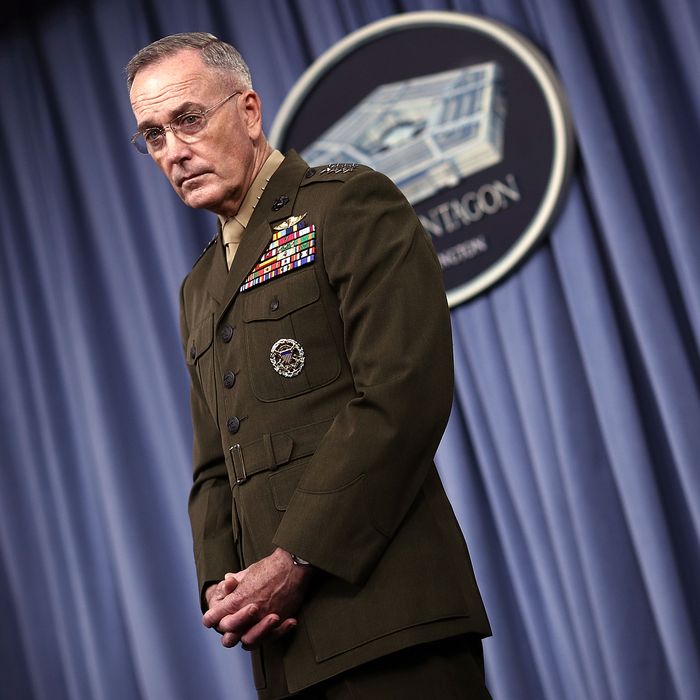 Chairman of the Joint Chiefs of Staff Marine Corps General Joseph F. Dunford Jr.
Photo: Win McNamee/Getty Images
President Trump may have announced Wednesday that transgender troops will no longer be allowed to serve in the military in "any capacity," but the chairman of the Joint Chiefs of Staff said Thursday that the military's policy on the issue hasn't changed.
"There will be no modifications to the current policy until the President's direction has been received by the Secretary of Defense and the Secretary has issued implementation guidance," General Joseph Dunford wrote in a memo to the chiefs of the military's services. Then, in what sounds like a repudiation of the new policy, he wrote, "In the meantime, we will continue to treat all of our personnel with respect."
While Defense Secretary Jim Mattis was reportedly consulted a day before Trump's announcement, CNN says the Joint Chiefs of Staff learned about it the same way the rest of us did — on Twitter.
The letter from Dunford clearly demonstrates the botched announcement of this policy change, which caught the Pentagon so off-guard that some feared Trump was announcing strikes on North Korea. It also reveals how little thought has gone into its implementation. The Pentagon has reportedly asked the White House for written directives on how to implement the ban. But Wednesday, Press Secretary Sarah Huckabee Sanders said the "Department of Defense will be the lead on that." Now Dunford is saying that he's waiting on the White House. And round and round we go.