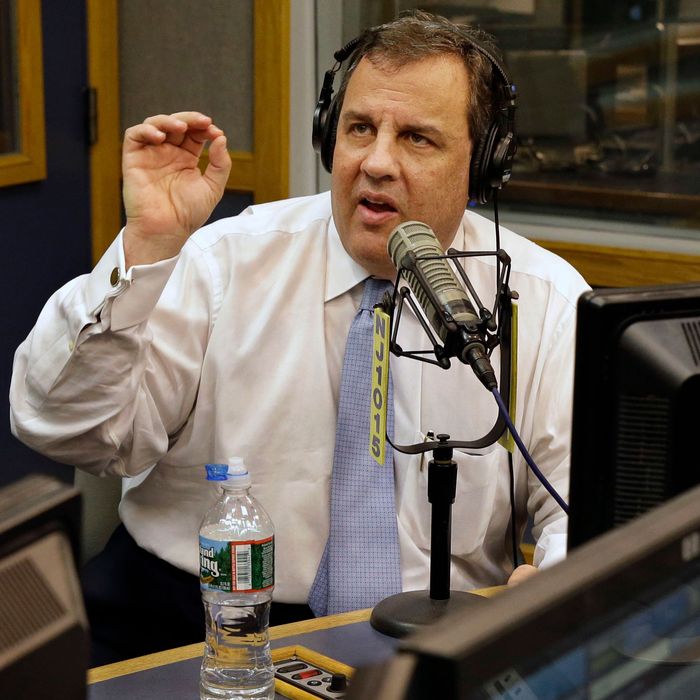 Chris from Trenton.
Photo: Pool/Getty Images
Chris Christie's combative personality carried him far in politics, but it couldn't carry him to the top. Now, more than a year after ending his campaign for the White House and just a week after a trip to the beach that might have ended his political career forever, the New Jersey governor is auditioning for a new job where loudmouth bullies tend to thrive: sports talk radio.
On Monday and Tuesday of next week, Christie will host WFAN's afternoon drive-time show while regular host and real-life Drunk Uncle, Mike Francesa, is on vacation. A superstar of the sports talk-radio world who's recently ripped the idea of female NBA coaches and defended his right to say "Oriental," Francesa, known to some as the Sports Pope, is retiring in December.
In January, Francesa endorsed Christie's candidacy. "The thing he's got going is he's got a brand, and that's the hardest thing to do. You have to have people recognize you and care about you, and he's already got that," he told Newsday.
Christie also has radio experience. He's hosted a show called "Ask the Governor" on New Jersey 101.5 and served as a fill-in host alongside Craig Carton on WFAN's morning show. Last year, that gig led one caller to challenge Christie's commitment to serving as governor.
"You're not putting your full attention toward the state of New Jersey when we are paying you to put your full attention toward your state of New Jersey," Brian said.
"You're obviously a bitter, angry guy," Christie responded.
Christie's decision to spend the first two days of next week in a Manhattan radio studio is a perfect microcosm of why he fell out of favor in New Jersey, a state that he forgot to govern over the past several years. Now, with his approval ratings at historically low levels, he clearly doesn't care what voters think.
If he really wants this job, he should care what they listen to on the radio though. That's why no one should be surprised if the commute home on Monday and Tuesday is filled with lane closures and traffic jams. It'll just be Chris from Trenton up to his old tricks again.