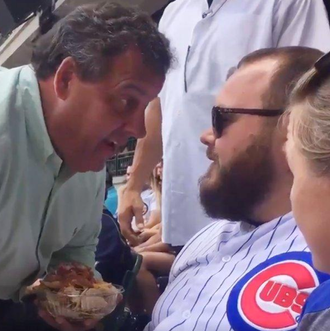 Who do you think you are, President Trump?
Governor Chris Christie, who had a 15 percent approval rating in New Jersey before Beachgate, has wisely decided to take his tough-guy routine on the road this summer. On Sunday, Christie, whose son works for the Brewers, was in Milwaukee to take in a Brewers-Cubs game. When heckled by a Cubs fan, Christie got right in the man's face, calling him a "big shot." The final moments of the altercation, which were captured on video, show Christie deftly cradling his nachos as he tells off the fan and scurries back to his seat. (This is not the first time he's confronted a "big shot" while handling a snack food.)
Later the Cubs fan, Brad Joseph, described the situation to WISN:
When he initially was going up the stairs I yelled his name. He was quite a bit passed me, and 30 feet away I yelled his name and told him that he sucked … I called him a hypocrite because I thought it needed to be said. He turned around back towards me and got in my face for what seemed like a long time, but was probably only about 30 seconds or a minute. (He) was yelling at me. First he told me, "Why don't you have another beer?" which I thought was a decent come back, and I thought that was kind of funny. Then he started calling me a tough guy.
Christie does not suffer bullies … unless they're president of the United States.