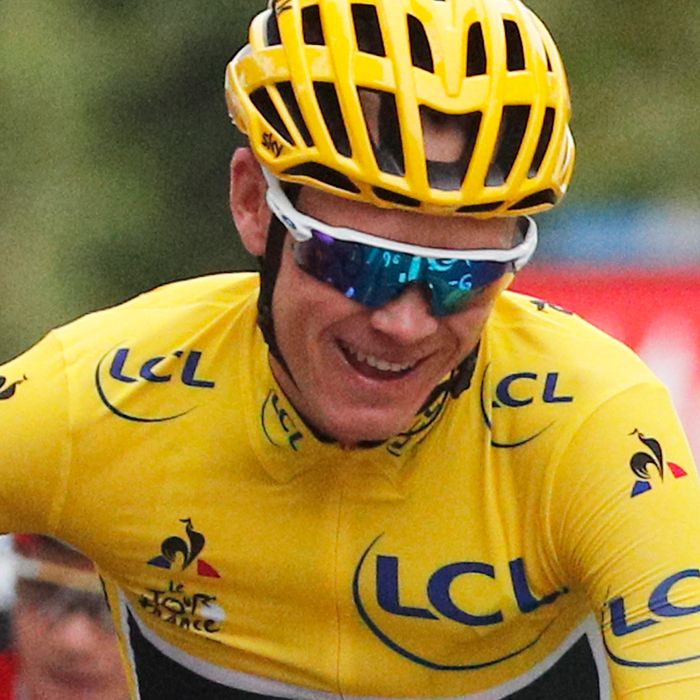 Britain's Chris Froome crossing the finish line of the 21st and last stage of the Tour de France.
Photo: Christophe Ena/AP
Ten days ago, it seemed conceivable that the indomitable Chris Froome might lose the Tour de France. The three-time champ looked spent climbing up the Pyrenees, squandered his lead, and had to hand over the yellow jersey. Today, as the legendary bike race came to a close during a ceremonial final stage along the Champs Élysées in Paris, Froome had mounted a massive comeback to collect his fourth win — by 54 seconds, over Colombian rider Rigoberto Urán in second place — for the closest contest in a decade.
It may be the ending that cycling experts had been predicting all along, but getting here came via some of the most exciting television the Tour has offered in years. The problem with Froome's dominance in previous Tours is that he'd get the yellow jersey early and then his Team Sky (the strongest team in the TDF) would spend the rest of the time playing defense, which has meant slowing down the peloton and putting the lid on any attacks — which also means keeping anything interesting from happening. When Froome lost the yellow jersey to Italian Fabio Aru in this year's Stage 12, Team Sky had to scramble and go on the offensive, first to protect their faltering leader from losing any more time, and then to help him gain that time back. Even when Froome got the jersey back a couple days later in Stage 14 (out of 21), there was only a second spread among the top four riders, making this year's Tour the tightest in history for most of its run.
And who knows what would've happened if Richie Porte, the contender most likely to give Froome a run for yellow, hadn't crashed out badly, going 72.5 kilometers-per-hour (45 mph) in Stage 9 and broken his collarbone and pelvis.
That crash-tastic day also took out Froome's No. 1 wingman, Geraint Thomas, who at the time had been in second place. An earlier crash in Stage 4 had taken out legendary sprinter Mark Cavendish, as well as other legendary sprinter Peter Sagan, who'd been kicked out of the Tour for apparently elbowing Cavendish and causing his crash.
Froome's quick recovery from losing yellow to Aru is a testament to how much teamwork matters in cycling. The Stage 14 when he took back the lead wasn't one of the big mountain stages where everyone expects the race to really play out. There was one climb, and because Froome has a great team and Aru had a weak team, Froome stayed at the front. Then, when the peloton split, Aru was on the bad side of the split and lost 30 seconds. Soon, Aru had lost enough time to slip off the podium.
All that stood between Froome and victory were two tough stages in the Alps, and a time trial on the penultimate day (yesterday) in Marseilles. Froome is a great time trialist and would surely beat the two mountain-specialists tied for second place and then only 27 seconds back, Urán and Frenchman Romain Bardet. The rest of the Tour became a nail-biter of a waiting game to see if Urán or Bardet could drop Froome at some point on an Alpine climb and gain enough of a time cushion to make up for whatever they'd lose to him in a time trial. Froome, though, proved undroppable.
Then, in Saturday's time trial, the last chance for anyone to mount a counteroffensive before today's ceremonial finale, Froome proved to be a force, finishing third, just six seconds back from the day's winner, Polish rider Maciej Bodnar. Froome was so fast he nearly passed Bardet, who'd started the course two minutes before he did. Bardet had started the day just 23 seconds back from Froome and ended it two minutes and 20 seconds down. Plus, he'd dropped from second to third, holding onto his podium spot by just one second, from Froome's teammate Mikel Landa.
Landa's contract with Team Sky ends this year, by the way, which means next year, we could see him leading his own team to vie for yellow opposite his old teammate. Can he triumph when he's no longer expending himself to help Froome win?
Here are the final overall standings:
1. Christopher Froome (GBR/Sky), at 86h 20:55.
2. Rigoberto Uran (COL/CAN), at 0:54.
3. Romain Bardet (FRA/ALM), at 2:20.
4. Mikel Landa (ESP/SKY), at 2:21.
5. Fabio Aru (ITA/AST), at 3:05.
6. Daniel Martin (EIR/QST), at 4:42.
7. Simon Yates (GBR/ORI), at 6:14.
8. Louis Meintjes (RSA/EAU), at 8:20.
9. Alberto Contador (ESP/TRE), at 8:49.
10. Warren Barguil (FRA/SUN), at 9:25.
Australian Michael Matthews won the green "points" jersey for best overall sprinter.
Frenchman Warren Barguil won the polka-dot jersey for best overall climber.
And Froome's fellow Brit Simon Yates won the white jersey for best young rider.
Avert your eyes if you don't want to know what a cyclist's legs look like 2800 kilometers into this thing.
In the end, Froome wasn't the best man in the mountains; he was just very good in the mountains and the best man against the clock. He now has four Tour wins, which puts him in the history books just behind Eddy Merckx, Jacques Anquetil, Bernard Hinault, and Miguel Indurain, who have five wins. (If you're not counting Lance Armstrong's seven wins, of which he's been stripped.) The closest, most exciting Tour in recent memory came down not to dramatic attacks in the mountains, but to patience and shrewd strategy and kicking ass at time trials. And it was an amazing thing to watch.