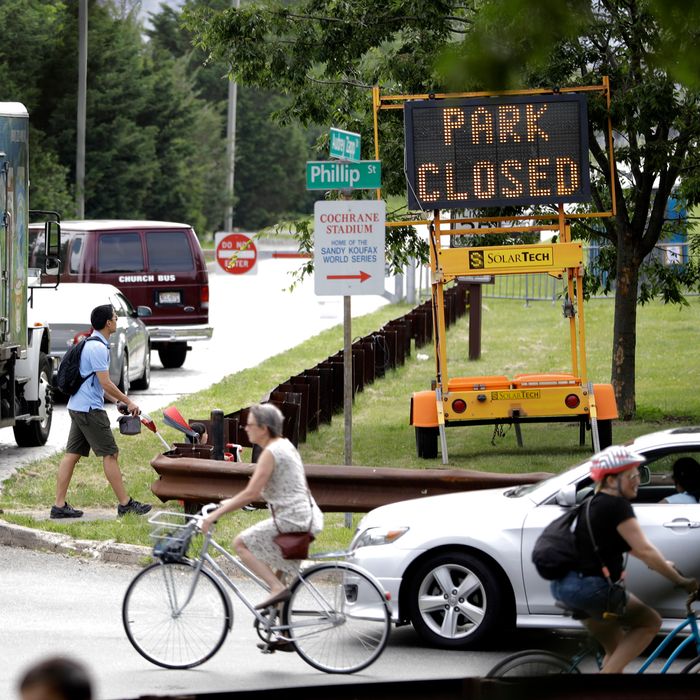 Vehicles, cyclists, and walkers bottleneck at the entrance to Liberty State Park, where a roadblock was keeping them from the park on Saturday morning.
Photo: Julio Cortez/AP
Embattled New Jersey governor Chris Christie shut down the state's government early Saturday morning after he and Democratic assembly speaker Vincent Prieto failed to agree on a new budget. As a result, New Jersey's state-run beaches, parks, and golf courses are closed on this Fourth of July weekend, ticking off confused would-be visitors across the state. Municipal parks are still open and the New Jersey transit system is still running, but non-emergency state offices and agencies have been shuttered and most state employees have been furloughed. Christie has called for a special legislative session on Saturday, but it's not at all clear the impasse will be solved any time soon.
The disagreement between Christie and New Jersey Democrats mostly hinged on brinksmanship regarding one final issue: Christie's demand that the state be allowed to use reserve funds of the state's largest health insurer, Horizon Blue Cross Blue Shield, to pay for opioid-addiction-treatment programs. To get his way, Christie had threatened to use his line-item veto power to cut Democratic spending initiatives from the budget. The Democrat-controlled State Senate compromised with Christie — though, it only gave partial control of the funds he wanted to the state's next governor — but Assembly Speaker Prieto refused Christie's demand. And so, with no budget bill signed by Friday's midnight deadline, the government was forced to shut down for the first time since 2006.
As seen above and at other state parks on Saturday, Christie staffers posted signs announcing the closures and offering "official government advice" directing blame at Prieto for the shutdown (welcome to New Jersey), but as Politico points out, it is more likely that the historically unpopular Christie will face most of state residents' ire over the shutdown. Regardless, even with a record-low 15 percent approval rating and only six months left in office, Governor Christie still holds most of the power in New Jersey's top-heavy government, and looking to bolster his already tarnished legacy, he may have no incentive to back down.
NJ.com is liveblogging the shutdown here.