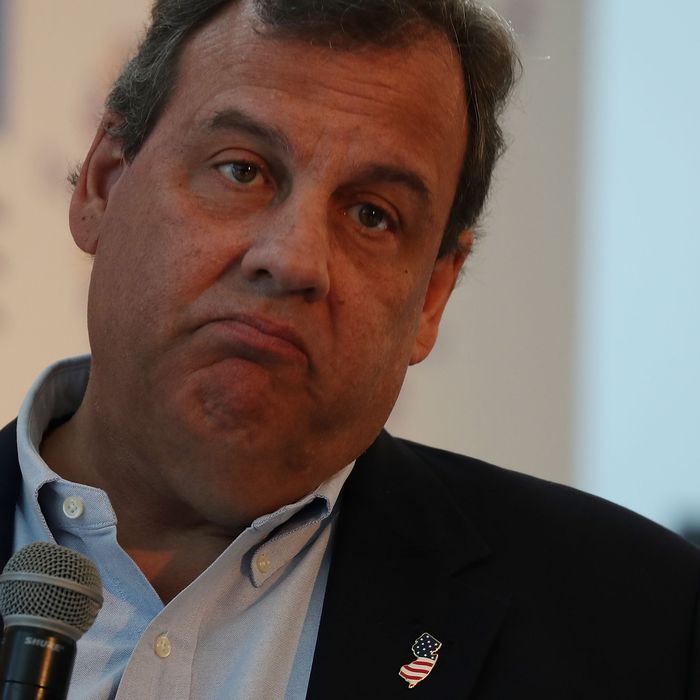 Chris Christie has run out of F's to give.
Photo: Joe Raedle/Getty Images
New Jersey governor Chris Christie and his family are spending the holiday weekend in one of the state parks that was closed to the public as a result of the government shutdown Christie ordered on Saturday following a budget standoff with the state's Democratic speaker of the Assembly. Politico points out that the Christies are staying at the state-owned governor's residence in Island Beach State Park, where they and their guests have the ten-mile barrier island all to themselves.
Christie, who has ordered back-to-back emergency legislative sessions on Saturday and Sunday, is helicoptering back and forth to the park. NJ Advance Media published photos of the governor relaxing on the beach with his family, which were taken early on Sunday afternoon.
At a press conference in Trenton hours later, Christie was asked if he'd managed to get any sun. "I didn't," Christie said. "I didn't get any sun today."
When told that there were photos of Christie sitting on the beach, Brian Murray, the governor's spokesman, acknowledged that he was "on the beach briefly today talking to his wife and family before heading into the office."
"He did not get any sun," Murray added. "He had a baseball hat on."
Police have been blocking thousands of visitors from entering Island Beach and dozens of other parks and beaches since Saturday morning on account of the shutdown, during which all non-emergency state services and agencies have been shuttered, although casinos and racetracks are still open and the state lottery is still running.
The embattled governor, whose historically dismal 15 percent approval rating may drop even lower because of the budget impasse and shutdown, has made it clear he doesn't really care that his family can use the park while others can't. "That's because the governor has a residence at Island Beach; others don't," he explained to reporters on Saturday, before advising said others to "Run for governor and then you can have the residence." Put another, more meme-ish way:
On Saturday, Christie staffers affixed signs to the closed beaches and parks offering "official government advice" in blaming State Assembly speaker Vincent Prieto for the shutdown, though it seems that, so far, most people in New Jersey are blaming Christie instead.
The governor, who is in the last six months of his final term, said he didn't cancel his family's plan to stay in the "Governor's Ocean House" on account of the shutdown because they wouldn't be using the state park's services. "I don't know if it's fair, But [my family and our guests are] not asking for any services," he rationalized. "The houses are the governor's houses, and they're not asking for any services."
It's not clear if and when the budget impasse that led to the shutdown, now in its second day, will abate. It does seem that most fireworks shows planned in the state for the Fourth of July holiday will go on as planned, since municipalities run fireworks displays, and they aren't affected by the shutdown.
This post was updated to include the photo of Christie at the beach.