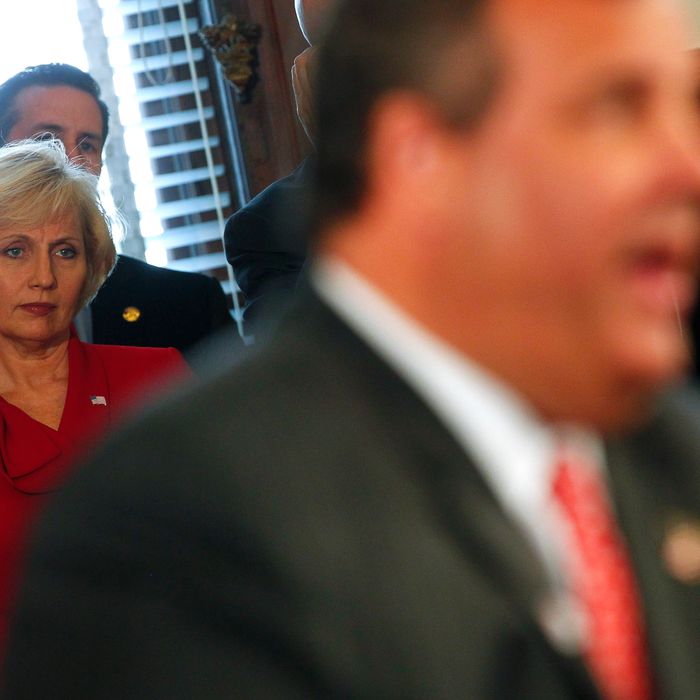 Guadagno disapproves.
Photo: Jeff Zelevansky/Getty Images
New Jersey's lieutenant governor Kim Guadagno called out her boss on Monday for sunning his thighs on a New Jersey state beach that was closed to the public. Calling Christie's decision "beyond words," Guadagno continued her months-long mission to distance herself from the historically unpopular Christie as she positions herself to succeed him in Trenton.
Guadagno's criticism of Christie came shortly after he entered day two of damage control for visiting the beach and then lying about it to reporters. On Sunday, after he was photographed sitting in a beach chair with his family, Christie told reporters that he "didn't get any sun today." Then this photo was published.
On Monday morning, Christie defended himself while appearing on Fox 5. "The governor is allowed to go to his residences, and I'm at my residences," he said. "I'll tell you this: I said last Monday, a week ago today, that no matter what happens, we were coming here as a family this weekend … This is one of the places we live."
Then he mocked the Star-Ledger for publishing the photo on its front page: "What a great bit of journalism by the Star-Ledger. They actually caught a politician being where he said he was going to be with the people he said he was going to be with: his wife and children and their friends. I'm sure they will get a Pulitzer for this one."
Later Monday, Christie's spokesman Brian Murray appeared on MSNBC and admitted that the governor was on the beach for 45 minutes. Was that enough for him to get some sun? "I will let you decide," Murray said.
Meanwhile, on the New Jersey beaches that are open this weekend, the near-universal disapproval of Governor Christie was on display in the skies.