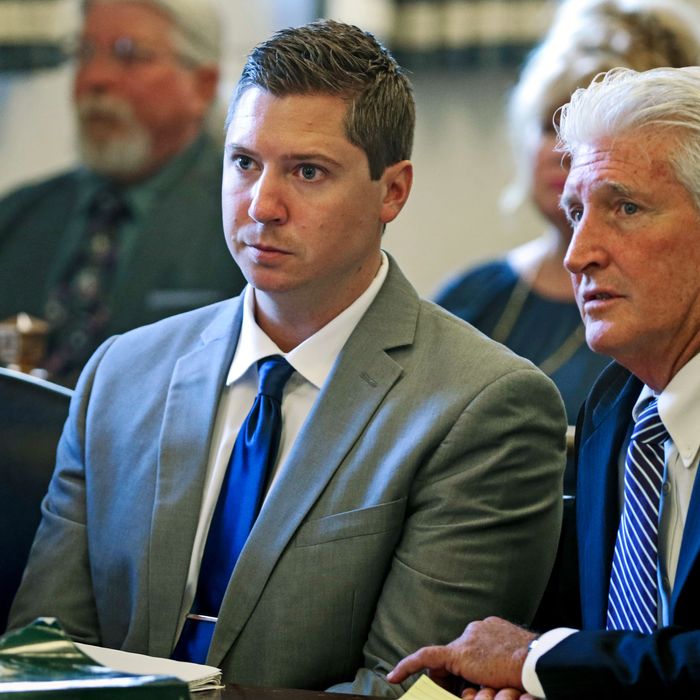 Ray Tensing.
Photo: Cara Owsley/AP
Ray Tensing, the former police officer who shot and killed Samuel DuBose in 2015 in a highly publicized police-violence case, will not face a third trial, a local prosecutor announced on Tuesday.
Tensing had previously faced juries twice: once in 2016, and once in June of this year. Both cases resulted in mistrials.
The 27-year-old Tensing, who is white, was a cop at the University of Cincinnati when he stopped DuBose, a 43-year-old unarmed black man, on July 19, 2015, over a missing license plate. What happened next is disputed. The defense claims that DuBose tried to drive away while Tensing's arm was stuck inside the car, making the officer fear for his life; prosecutors say that Tensing fired at DuBose before the car started moving. Body-camera video from the encounter was used by both sides to bolster their cases.
The case sparked protests and is part of the larger pattern of black men being killed by police officers that has galvanized the Black Lives Matter movement.
Prosecutor Joseph Deters previously said that he had run out of time to try Tensing on lesser charges, such as reckless homicide.
In a statement given with other organizations, the DuBose family said that "the pursuit of justice was abandoned today" and that "a murderer walks free with no accountability for taking the life of an unarmed black man."