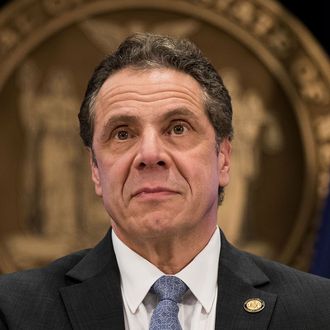 Light-show fan.
Photo: Drew Angerer/Getty Images
As New York subway riders debate whether they need to give up food just to keep the trains running, Governor Andrew Cuomo is getting attention for a pricey plan to retrofit New York's MTA-run bridges and tunnels with colorful LED lights. But while mass-transit infrastructure continues to crumble, Politico reports that this fancy-light plan is estimated to cost $350 million. Right now, there's a big question mark over who is paying for it. Cuomo's office says that the MTA isn't paying for choreographed light shows on its bridges, but that seems to contradict what other state agencies have heard:
That may come as a surprise to board members of the New York Power Authority, who discussed an MTA lighting project at their meeting in January. They were told the project would be paid for by the MTA, which, like the Power Authority, is effectively controlled by the governor.




In March, the NYPA board was presented with unaudited financial reports showing an LED lighting project for the MTA was slated to cost $216 million.
Cuomo's office also disputed the cost of the project to Politico, saying it would not be near $350 million. But whoever is footing the bill, critics are asking — can't we just use that money to invest in more vital infrastructure upgrades?
Even Mayor Bill de Blasio couldn't resist poking at his favorite upstate frenemy.
But the governor defended the light project during an event on Long Island, where he also announced multi-billion-dollar investment in Long Island Railroad infrastructure and modernization projects.
Cuomo declared the MTA in state of emergency last month, which temporarily loosens procurement-regulations procedures so the MTA can theoretically enter into contracts faster to jumpstart projects. But before that announcement, Cuomo tried to avoid the subject of the MTA, a state agency under his control. And that seems to have caught up with him. The governor took a big hit in a Sienna College poll, released this week, that saw his approval rating dip to 52 percent from his recent highs of around 60 percent. His handling of the subway crisis — and its close cousin, the LIRR's "summer of hell" — are behind the latest drop, with 59 percent disapproving of his MTA leadership. It's the second poll in a week that showed Cuomo's star slipping; a Quinnipiac poll also had his approval rating at about 52 percent, and at least 23 percent of city dwellers gave Cuomo on "F" on his supervision of the MTA. (Only 4 percent of all New Yorkers gave him in A.)
All of that's probably not great news for a governor who may or may not be looking ahead to a White House run in 2020. But to add insult to injury, a deeply unpopular GOP politician who should generally stay away from issues involving transportation took issue with Cuomo's "summer of hell" phrasing to describe Penn Station repairs. "You know, I'm going to smack him for the 'summer of hell' comment. We should be more disciplined than that," Chris Christie told reporters Monday. "But nonetheless, Andrew made the comment, so we've got to live with it."