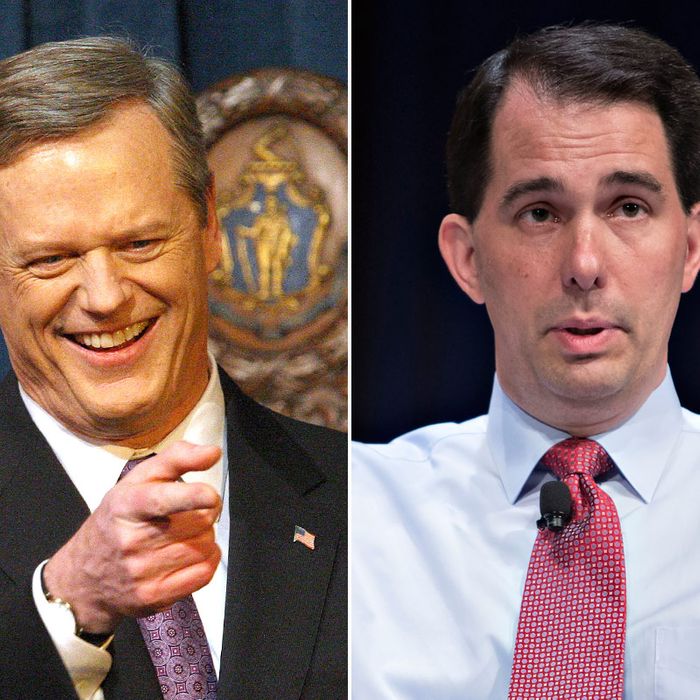 Charlie Baker of Massachusetts is the most popular incumbent governor facing reelection in 2018. Scott Walker of Wisconsin is the least popular.
Photo: John Blanding/The Boston Globe via Getty Images, Daniel Acker/Bloomberg via Getty Images
The most underappreciated (in Washington, anyway) aspect of the 2018 midterm elections is the fact that 36 governorships will be up for grabs. And the partisan landscape for these contests will be nearly as skewed toward Democrats as the Senate landscape is skewed toward Republicans, with the GOP defending 26 seats and Democrats just 9 (one, in Alaska, is held by an independent).
What really makes the gubernatorial races different from others, however, are term limits: Fully 13 Republican governors and 4 Democrats are either term-limited or have already announced their retirements.
So it's worth a close look at the Morning Consult's updated approval/disapproval ratings for the 13 Republicans and 5 Democrats who are currently likely to run for reelection.
Red governors, blue states
As it happens, the two most popular governors are Republicans serving in bright blue states: Charlie Baker of Massachusetts (71/17) and Larry Hogan of Maryland (68/16). You can expect both of them to lose significant altitude between now and next November, if only because the prevailing levels of partisan polarization and straight-ticket voting dictate it. They and the other three incumbent Republicans running in states won by Hillary Clinton last year (Vermont's Phil Scott — whose approval ratio is 62/23 —New Hampshire's Chris Sununu — who's at 57/23 — and Bruce Rauner of Illinois, who's at 40/49) will all be dragged down by the natural trend away from the party that controls the White House, though their individual relationships with Donald Trump could matter at the margins.
Blue governor, red state
Only one non-retiring, non-term-limited Democratic governor is running in a state carried by Donald Trump last year; that's Tom Wolf of Pennsylvania, whose approval ratio is a decent but hardly overwhelming 48/37. His state will be a major midterm cockpit for House races, so there will be plenty of money around, and Wolfe has some wealth of his own to spend.
Governors with underwater approval ratings
The five most unpopular governors are all term-limited or retiring: Chris Christie of New Jersey (25/69); Sam Brownback of Kansas (25/66); Dan Malloy of Connecticut (29/64); Mary Fallin of Oklahoma (35/55); and Rick Snyder of Michigan (38/52). All but Malloy are Republicans. Christie will be replaced this November. The candidates with "underwater" approval ratios who are at this point running for reelection are Scott Walker of Wisconsin (43/51), the aforementioned Bruce Rauner (40/49), Bill Walker of Alaska (42/48), Gina Raimondo of Rhode Island (43/47). Scott Walker has obviously been in hot water before. Bill Walker is an independent loosely connected to Democrats in a heavily Republican state. Rauner's race could become the most expensive in U.S. history; the unpopular incumbent has already raised $70 million. Raimondo, who has battled with public-sector unions, could be vulnerable to a primary challenge.
Advantage: Democrats
All in all, when you include the states with no incumbent running, 2018 is a good opportunity for Democrats to pick up some governorships. Of the 14 races the Cook Political Report deems competitive (either tossups or leaning in one direction or the other) at this early stage, nine are for seats currently held by Republicans, four for seats held by Democrats (and then there's Bill Walker's Alaska). Democrats will very likely pick up New Jersey this year, and are favored to hold Virginia. With some luck and a decent midterm partisan breeze, the party so often accused of being hapless at the state level could wind up with over 20 governorships when the dust settles in November of 2018, which could help when redistricting rolls around in 2020.