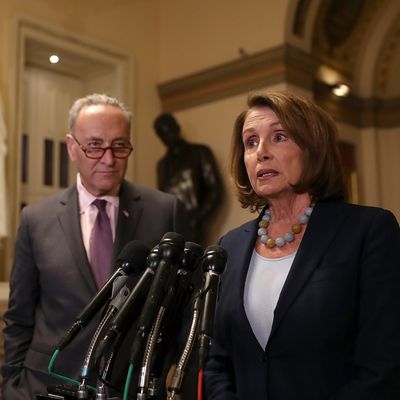 Now it's sure to be smooth sailing.
Photo: Justin Sullivan/Getty Images
Though the 2018 midterms are still a long way off, national Democrats have caught some flak for not yet developing a unified message to sell to voters beyond "Trump Is Bad." (Which, to be fair, is one that most of America is onboard with.) The lack of a clear, identifiable agenda was also a key factor in Hillary Clinton's defeat last year.
To get the ball rolling in their quest to pick up the 24 seats needed for a congressional takeover, Democrats will unveil their gleaming new motto on Monday, which is … "A Better Deal." Or, more specifically, "A Better Deal: Better Jobs, Better Wages, Better Future."
To quote Jeb Bush: Please clap.
If this rather anodyne phrasing sounds familiar, it's because it recalls two successful slogans of presidents past: Theodore Roosevelt's "Square Deal," back in 1910, and, of course, FDR's "New Deal," which he rolled out to great effect in 1932. (If you thought there might have been advances in political-branding technology in the intervening 85 years, you'd be wrong.) It also may work as a foil to the supposed "dealmaker-in-chief" who currently occupies the White House.
Both of the Roosevelts focused with laserlike precision on economic security for Americans, and today's Democrats are attempting to follow suit. The Washington Post reports that "some lawmakers, aides and outside advocates consulted on the new agenda said that it is expected to focus on new proposals to fund job-training programs, renegotiate trade deals and address soaring prescription-drug costs, as well as other issues," including a $15-an-hour federal minimum wage. Senator Chuck Schumer said on ABC's This Week that Democrats had been too "namby-pamby" in their economic messaging, and declared that the party would seek to change the way big companies merge and consider getting behind a single-payer health-care system.
Will "A Better Deal" cut through the clatter and claim its place in the pantheon of successful slogans with "Deal" in them? Stay tuned.
This post has been updated to include Senator Schumer's comments about the Democratic agenda.