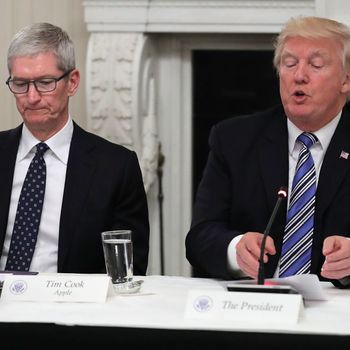 Tim Cook and Donald Trump at the White House's American Technology Council in June 2017.
Photo: Chip Somodevilla/Getty Images
Despite Donald Trump's claims to The Wall Street Journal, Apple won't be building three factories in the United States anytime soon. Why? Well, for starters, Apple doesn't build factories anymore. In the entire world, Apple now owns exactly one manufacturing plant: its plant where it assembles iMacs in County Cork, Ireland.
In an interview with The Wall Street Journal on Tuesday, Trump claimed that Tim Cook had promised that Apple would be building three manufacturing plants here in the U.S. "I spoke to [Mr. Cook], he's promised me three big plants — big, big, big," said Trump. "I said, you know, Tim, unless you start building your plants in this country, I won't consider my administration an economic success. He called me, and he said they are going forward."
While it's touching to think that Tim Cook would worry whether Trump considers his presidency an economic success, Apple, again, doesn't build manufacturing plants. (In fact, before he was CEO of Apple, Cook was in charge of winding down Apple's factories and warehouses in the U.S., closing Apple's last American factory, based out of Elk Grove, California, in 2004.)
Apple manufactures its high-end Mac Pros, a tiny slice of its overall business, here in the U.S., but the work is done through a partnership with Taiwanese firm Flextronics — and that factory has struggled to keep up even with the tiny demand for Mac Pro towers, causing Apple to consider shifting production over to Asia. Apple has pledged to invest $1 billion in American manufacturing, but that money will filter to American companies like Corning, which produces the glass used in many Apple displays. It also uses many U.S.-based suppliers — including 3M, Caterpillar, and Lapmaster — to build various parts of its hardware, in the same way it uses many other suppliers not based in the U.S., most famously Foxconn.
So why would Trump brag about three new plants from Apple in the U.S.? It's possible Trump is simply fabricating the story out of whole cloth. More generously, it's possible that Cook talked to Trump about Apple's reported efforts to get its Asian suppliers to manufacture some iPhones in the U.S. Indeed, Foxconn seems poised to open factories in the States, and Foxconn produces nearly a half million iPhones a day when in full swing. Apple's rumored expanded lineup of iPhones could see that number go even higher in coming years.
The most likely scenario probably falls somewhere in between that. Realistically, it wouldn't cost Apple a tremendous amount to bring a few jobs back to the U.S., mainly because foreign labor costs are starting to rise. The MIT Technology Review analyzed Apple's supply chain in 2015 and determined that the retail price of an iPhone made entirely in the U.S. would be about $100 higher than it is now — a price jump, but not a catastrophic one.
We may see more jobs and new plants in the U.S. as Apple's suppliers, from Foxconn to Samsung, continue to expand their manufacturing footstep here. But it won't be Apple that will be building them, regardless of what Donald Trump claims Tim Cook told him.