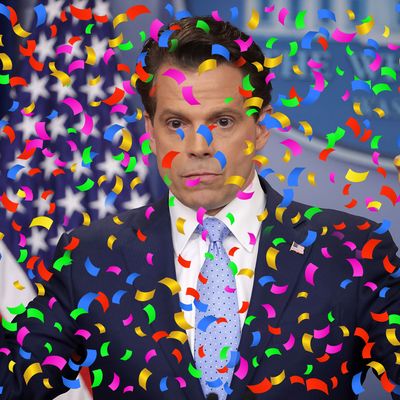 Anthony Scaramucci.
Photo: Chip Somodevilla/Getty Images
Last Friday, just a week into Anthony Scaramucci's brief tenure as White House communications director, his wife, Deidre, filed for divorce. According to "Page Six," his "naked political ambition" was a precipitating factor; while she was giving birth to their son, her husband was with President Trump at the Boy Scouts jamboree in West Virginia.
But Anthony wasn't entirely absent. A source told "Page Six" that "when James was born, he sent her a text saying, 'Congratulations, I'll pray for our child.'"
The oddly formal text received its fair share of attention on Twitter over the weekend, for reasons that are probably obvious to people who have been married, or had children, or engaged in really any kind of social interaction at all. Sadly overlooked has been the context in which the text was sent, and the way that technology might have transformed the message entirely. That is, Anthony's congratulatory text to his wife on the occasion of the birth of their child might have triggered a confetti animation in iMessage.
Apple's text-messaging software was updated last year to include fun animations that users can add to their messages — lasers, balloons, fireworks, etc. Perhaps the most used of these animations is the confetti one, because it automatically triggers if someone sends a recipient a message such as "Congratulations!" or "Congrats!"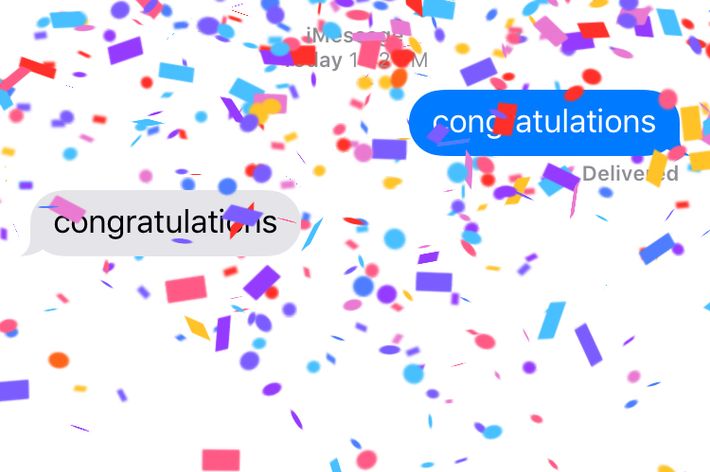 Practiced iPhone users noted almost immediately that Scaramucci's use of "congratulations" might have triggered the confetti, and we took it upon ourselves to investigate. First things first: Based on a study of paparazzi photos, both Anthony and Deidre are iPhone users, a necessary requirement for iMessage. (Metadata on both of their Twitter accounts backs this up.) Assuming that both of their phones have received an operating-system update in the last 10 or 11 months, the confetti effect is active.
But — sadly — rigorous testing demonstrates that the message "Congratulations, I'll pray for our child" does not trigger the iOS confetti. Even playing around with punctuation, the full phrase remains coldly un-confetti-ed.
That being said, the unknowns allow us to keep the dream of tonally inappropriate digital confetti alive. The phrase "Congratulations, I'll pray for our child" was relayed to "Page Six" via a paraphrasing anonymous source, so we can't be certain of spelling or format. If, for instance, Anthony Scaramucci texted "Congratulations," and then quickly followed up with "I'll pray for our child" in a separate message, then he will have activated confetti mode. You can also manually add the confetti effect to any text message, so maybe he intentionally included it as a nice gesture — or even added a separate effect, like balloons or lasers.
But until Deidre Scaramucci speaks to this issue, we will never know which, if any, iMessage effects accompanied her husband's first communication after their son was born. Democracy, as they say, dies in darkness.