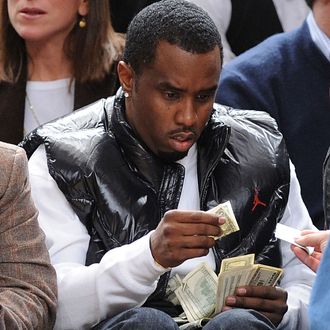 Photo: James Devaney/WireImage
The New York Times, on a bit of a journalistic hot streak lately, has yet another scoop on its hands.
In an interview with the Times magazine, rapper and entrepreneur Sean "Diddy" Combs has finally spoken out about the viral photo of him looking at money. Surely you've seen it: Diddy, sitting courtside at a basketball game, holds a wad of $100 bills in one hand, and in the other, a measly single. He looks confused. "How did this mere bagatelle get in here?" his face says.
From the Times:
Have you seen that picture of you online, when you're at a basketball game and you have all this money out and it looks like you're confused by the fact that you have a $1 bill?




Yeah. I love a $1 bill! I just make weird faces sometimes.
Case closed. Diddy has no problem with $1 bills, he just makes weird faces sometimes. Stars! They're just like us!