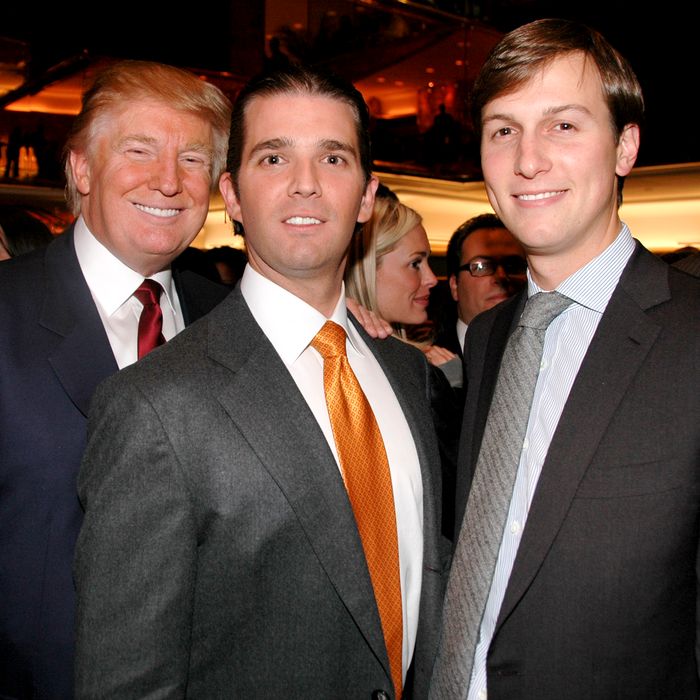 Donald Trump, Trump Jr., and Jared Kushner before they were cast in
House of Cards
.
Photo: Patrick McMullan/Patrick McMullan via Getty Images
On Tuesday, Donald Trump Jr. released emails in which an acquaintance tells him the Russian government wants to swing the U.S. presidential election in his father's favor and would like to present him with some incriminating information about Hillary Clinton. Trump Jr.'s response: "I love it."
This digital "smoking gun" raises complex legal questions about potential violations of federal election law and criminal conspiracy law, and what that means for the ongoing probe into Russia's election meddling. But if you're just here for juicy tales of White House backstabbing, it was still a pretty monumental day. One outside Trump ally told the Washington Post that the situation in the White House is like a "Category 5 hurricane" right now, and last night yielded about a week's worth of leaks about the turmoil within the White House (or what might be a year's worth of gossip in a previous administration). Here are the most intriguing reports.
President Trump Signed Off on Trump Jr.'s Initial Statement
When the New York Times broke the story about Trump Jr.'s meeting with a Kremlin-connected lawyer on Saturday, he responded with a short statement saying they "primarily discussed a program about the adoption of Russian children." On Tuesday night, the Times revealed that this statement — which was "so incomplete that it required day after day of follow-up statements, each more revealing than the last" — was crafted by a group of Trump advisers on Air Force One as they returned to Europe.
Sources said President Trump personally signed off on the statement. They were divided on whether Trump Jr. was for or against offering a more thorough disclosure:
Inside Mr. Trump's team, the response to the developments has become a subject of intense dispute. Three people familiar with his son's account said he pushed to offer a full explanation on Saturday when first contacted by The Times about the meeting, and said he agitated to be allowed to defend himself publicly. But three other people involved in the discussions offered a completely contrary version of events, insisting that the younger Mr. Trump adamantly resisted an expansive disclosure.
Kushner's Team Might Have Leaked Don Jr.'s Emails
Previous reports in the Times said journalists learned about the contents of Trump Jr.'s correspondence from "three people with knowledge of the email."
"There's only a few names on those emails," one person close to the White House told Politico. "And it would have to be someone out to get the president's son."
Some speculated that either Jared Kushner, Trump's son-in-law and adviser, or Paul Manafort, Trump's former campaign manager, were throwing Trump Jr. under the bus. While the focus is currently on Trump Jr., Kushner and Manafort attended the meeting with the Russian lawyer, too, and they may be in more serious legal jeopardy. On Tuesday, the Times added more fuel to those theories:
The emails were discovered in recent weeks by Mr. Kushner's legal team as it reviewed documents, and they amended his clearance forms to disclose it, according to people briefed on the developments, who like others declined to be identified because of the sensitive political and legal issues involved.




… Similarly, Mr. Manafort recently mentioned the meeting to congressional investigators looking into possible collusion, according to the people briefed on the matter.
The President Has a Lot of Time on His Hands, and He's Using It to Fume About the Russia Scandal
Trump has not had any public events in recent days, apparently because he needed a long break between the G20 and his trip to France on Wednesday. According to Politico, that means his schedule is "unusually light," and he's been "watching TV news and venting about the investigation." Sources say the president is upset about the headlines, not his son's behavior — but there is someone who has sparked his ire. In May, Trump hired his longtime attorney Marc Kasowitz to act as his personal attorney in matters related to the Russia probe. Now the Times reports that Trump has "grown disillusioned" with Kasowitz's strategy.
Trump's Lawyer Is Fed Up With Kushner and May Resign
It appears the disillusionment goes both ways. According to the Times, Kasowitz and his team feel Kushner is only out for himself, and while they're supposed to be coordinating the Trump team's Russia response, they only learned of Trump Jr.'s initial statement from media reports. The situation has grown so tense that there's talk of Kasowitz resigning.
Mr. Kasowitz and his colleagues have complained that Mr. Kushner has been whispering in the president's ear about the Russia investigations and stories while keeping the lawyers out of the loop, according to another person familiar with the legal team. The president's lawyers view Mr. Kushner as an obstacle and freelancer more concerned about protecting himself than his father-in-law, the person said. While no ultimatum has been delivered, the lawyers have told colleagues that they cannot keep operating that way, raising the prospect that Mr. Kasowitz may resign.
Kasowitz may actually be forced to step down for reasons that have nothing to do with Trump. He said on Tuesday that he isn't seeking a security clearance, though other attorneys say that would be absolutely essential for handling a case involving so much classified information. ProPublica reported on Tuesday night that Kasowitz may not be able to obtain one due to his issues with alcoholism:
In recent weeks, ProPublica spoke with more than two dozen current and former employees of Kasowitz's firm, Kasowitz Benson Torres LLP, as well as his friends and acquaintances. Past and present employees of the firm said in interviews that Kasowitz has struggled intermittently with alcohol abuse, leading to a stint in rehab in the winter of 2014-15.




Several people told ProPublica that Kasowitz has been drinking in recent months. (The vast majority of those who spoke to ProPublica for this article declined to be quoted by name, citing Kasowitz's penchant for threatening lawsuits.)
The site said federal investigators commonly raise concerns when "behaviors might make someone vulnerable to blackmail or suggest poor judgment."
White House Staffers Feel "Helpless," Hurt by Pence's Attempts to Save Himself
In times of trouble, a story often appears in which White House aides cast themselves as victims in their boss's latest drama. This time one Trump adviser told Politico that the White House is "essentially helpless" because the matter at hand occurred during the "anything goes" campaign. The adviser said they'd talked to people in the White House and "none of them knew anything about Donald Trump Jr.'s meetings" — though obviously Kushner knew something because he was in the meeting.
As previously reported, many Trump aides are trying to avoid involvement in Russia-related matters because they can't afford to hire a lawyer if they get swept up in the probe. Yet they're said to be miffed about Vice-President Mike Pence's apparent attempt to separate himself from the current controversy. His statement on the matter said he's "not focused on stories about the campaign, particularly stories about the time before he joined the ticket."
The Trumps Want to Fire Reince Priebus
The Post reports that Kushner, Ivanka Trump, and even First Lady Melania Trump are pushing the president to shake up his team — and specifically to fire White House chief of staff Reince Priebus:
The three family members are especially concerned about the steady stream of unauthorized leaks to journalists that have plagued the administration over the nearly six months that President Trump has been in office, from sensitive national security information to embarrassing details about the inner-workings of the White House, the officials said.
A deputy White House press secretary and the First Lady's communications director both denied this, and it seems like a bizarre reaction to a flare-up in the ongoing Russia scandal. On the other hand, leaking about how Priebus may soon be out of a job does seem to bring Trump staffers together.