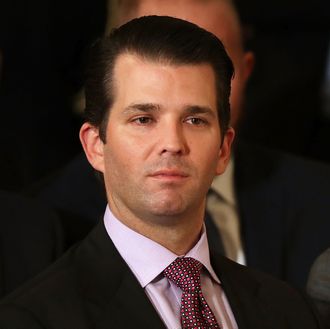 Don Jr.
Photo: Chip Somodevilla/Getty Images
Donald Trump Jr. has enlisted a criminal attorney to represent him in connection to the probe into the 2016 Trump campaign's connection to Russia. Trump Jr. reportedly hired Alan Futerfas following revelations over the weekend that he and other Trump campaign officials had met with a Kremlin-linked Russian lawyer during the 2016 campaign who promised damaging information about his dad's opponent, Hillary Clinton.
Futerfas, a New York–based attorney whose website advertises his "twenty-five years of litigation experience representing individuals and companies in traditional and white collar cases," confirmed to Talking Points Memo that he's representing Trump Jr. Futerfas is an experienced litigator, and he has defended clients with alleged ties to the mob, including a racketeering case involving a Mafia-linked "garbage cartel." He also represented the Queens pizzeria owner convicted of smuggling cocaine last year and one of the hackers accused of a 2014 cyberattack on JPMorgan.