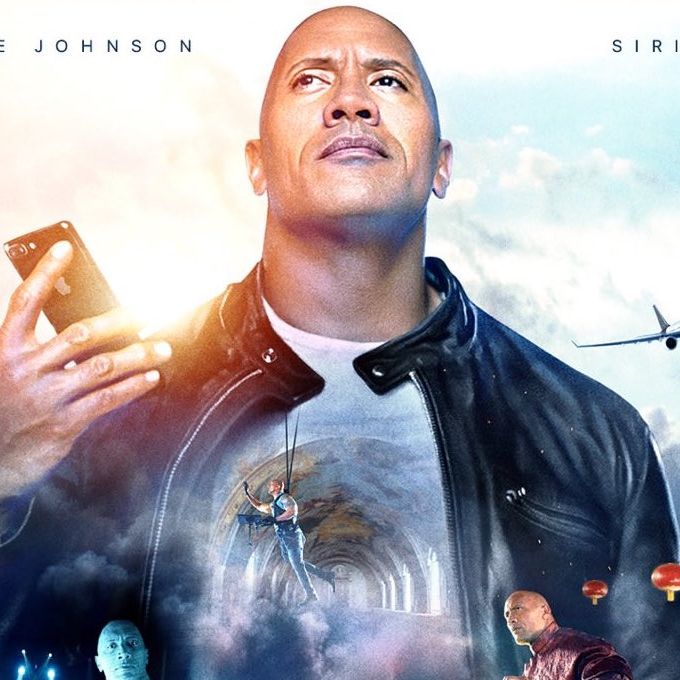 In a world where a company notorious for hoarding cash spends a ton on an ad.
Photo: Twitter/@TheRock
This winter, Apple will roll out HomePod, its foray into the smart-speaker market. Selling for twice the price of some of its competition, it promises a much better higher-quality audio speaker than the Amazon Echo or Google Home. But for the HomePod to really take off, people need to fall back in love with Siri.
To that end, Apple debuted a pricey bit of advertising with Dwayne "The Rock" Johnson this weekend, a nearly four-minute-long extravaganza: The Rock x Siri Dominate the Day. The central joke is that the Rock is so overbooked, he couldn't possibly do any more — unless he has the help of Siri. So he calls a Lyft, takes a flight to Rome to touch up the artwork inside a local church, creates his own fashion line, cooks in place of Ludo Lefebvre, and takes a selfie in space — all before returning to the set of his latest big-budget action flick.
Before any Apple geeks complain that the company is debasing itself by putting a famous human in an ad for its gleaming, pristine technology, remember that this isn't the company's first brush with celebrity: Kevin Costner pitched Lisa back in 1983, Jeff Goldblum showed up in ads for the iMac in 1998, and Will Ferrell went to bat for the iPod in 2002. Apple turned to celebs when it rolled out Siri in 2011, with a spot featuring Samuel L. Jackson and a corny Zooey Deschanel ad that has become semi-infamous in its own right. Comparing those Siri ads to this one, Apple's point becomes a bit clearer — Johnson is using Siri to do a lot more than just set timers or check the weather. He's ordering cars, telling his phone to take a picture, or updating his "Life Goals" list.
But Apple may still have a ways to go to convince the skeptical that Siri can really do all that. In an ad that features the Rock hijacking a flight in order to fly to Rome, being allowed to paint as he pleases inside a R0man church, and somehow hitching a ride into low Earth orbit, the thing people have pegged as unrealistic is that Siri would understand everything:
Update: A previous version of this article said The Rock was painting inside the Sistine Chapel. He is instead using his artistic skills in an unspecified church.