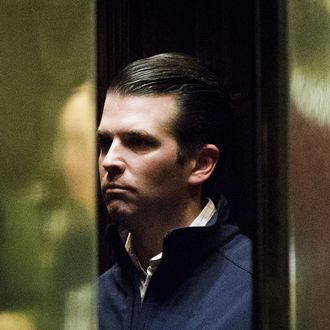 Don Jr.
Photo: Justin Lane/Bloomberg via Getty Images
An American representative for a Russian real-estate developer also joined Donald Trump Jr. at his meeting at Trump Tower with a Kremlin-linked attorney to discuss damaging information on Hillary Clinton and, seriously, Russian adoptions.
The Washington Post revealed the eighth known attendee as Ike Kaveladze, a 52-year-old California businessman and U.S. citizen who was born in the former Soviet Union. Kaveladze works for the Crocus Group, the real-estate company that belongs to the Agalarovs. If that name sounds familiar, it's because Aras, a billionaire developer with ties to Vladimir Putin, and his son Emin, a Russian pop star, have ties to Trump after they helped bring the 2013 Miss Universe pageant to Moscow. Emin had proposed Trump Jr. meet with the Russian lawyer Natalia Veselnitskaya, through emails from music publicist Rob Goldstone, who acted as the intermediary. The Agalarovs' attorney confirmed to the Washington Post that Kavaladze went to the June 9, 2016, sitdown as a representative for the Agalarov family and to act as a translator, though the Veselnitskaya ended up bringing her own translator. "He literally had no idea what the meeting was about until he showed up right before," the attorney, Scott Balber, told the Los Angeles Times.
According to the Post, the eighth meeting attendee had also been of interest to Special Counsel Robert Mueller, who allegedly reached out to the Agalarovs' attorney for that information this weekend. Kaveladze's presence at the meeting should account for the last known participant, which besides Goldstone, Veselnitskaya, and her translator Anatoli Samochornov, included Russian-American lobbyist and former Soviet counterintelligence officer Rinat Akhmetshin. Representatives for Team Trump were Trump Jr., Trump's son-in-law and current adviser Jared Kushner, and former campaign chair Paul Manafort.