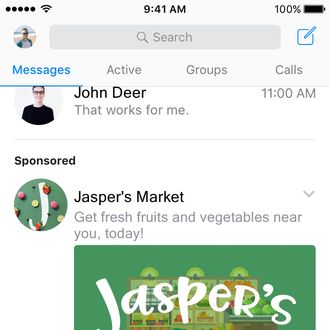 Ads will now appear between your messages.
Following a test with users in Thailand and Australia, Facebook Messenger announced it'll be rolling out ads to all users, Venture Beat reports. The ads will appear on the home screen (where you go in the app to find your messages) and will be widely available to advertisers in the coming weeks. "Advertising is not necessarily everything, but it's definitely how we're going to be making money right now," Messenger's head of product, Stan Chudnovsky, told VB. "And going forward, there are some other business models we are exploring as well, but they're all around ads one way or another." Great.
Ads will be targeted specifically to users, Chudnovsky also said, noting the company will be slow to roll them out to users over the next few months. Namely because it's not great for business — "we're just going to be very data-driven and user feedback-driven on making that [timeline] decision" — if users hate the new ads and abandon the product. Which, honestly, I can't imagine what there could possibly be to hate about getting served a bunch of big banner ads for those sandals you looked at one time on Zappos while you're just trying to send a message to a friend.