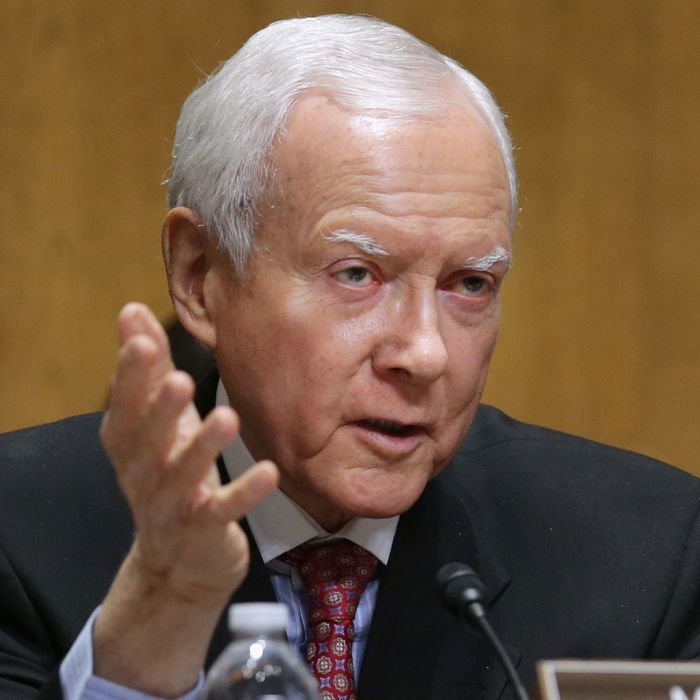 Orrin Hatch with the fatal blow.
Photo: Chip Somodevilla/Getty Images
John McCain created a moment of immense drama Thursday night when he thumbs-downed the Republicans' last-gasp attempt to keep the Obamacare repeal alive. Much less dramatic, but perhaps almost as important, is a new Reuters report that Senator Orrin Hatch plans to deliver to the Trump administration the message that "[t]here's just too much animosity and we're too divided on healthcare." This is unmistakable evidence that the Obamacare repeal will not be resuscitated.
The surprise of McCain's gesture probably gave an exaggerated sense of how close the Senate was to repealing Obamacare. The bill that failed, "skinny repeal," was a legislative shell commanding little support. Mitch McConnell's rationale for passing it was that it would allow a House-Senate conference to write some different bill. Given that Senate Republicans couldn't figure out a bill capable of winning 51 Senate votes, it was hard to imagine how a conference with the House could have done the same.
Hatch's statement makes clear what seemed obvious: Many Republican Senators, even those willing to go along with McConnell's plan to delay the failure of Obamacare, didn't think it would result in success anyway. It means McConnell isn't just one vote short. Roy Blunt, a member of McConnell's leadership team, said today, "If the question is do I think we should stay on health care until we get it done, I think it's time to move on to something else."
So repeal is dead. Relatedly, Obamacare is doing quite well. You might recall a great deal of news coverage focusing on the exit of insurers from a number of counties, leaving huge numbers of Americans with no choices at all on the exchanges. Today, Ohio announced that it had found insurers for 19 of its 20 counties lacking any plans, and believed the 20th is on the way.
That leaves just some rural swaths of Nevada and Indiana — which between them contain one-tenth of one percent of all exchange enrollees — without an insurance plan in their exchanges. With the threat of legislative repeal buried, insurer participation is likely to stabilize.
President Trump claims that Obamacare is "dead" and "gone," and has ramped up his angry threats to sabotage the exchanges. But insurers have come to a different conclusion: The president's bluster will blow over, and Obamacare will remain.