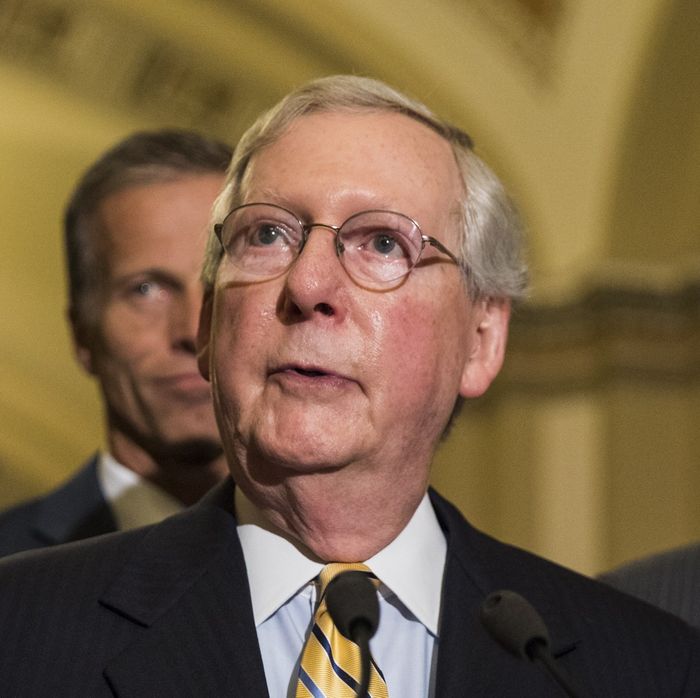 Don't worry, the Republicans will come up with a great replacement plan … someday.
Photo: Anadolu Agency/Getty Images
The Better Care Reconciliation Act — the Obamacare replacement plan Majority Leader Mitch McConnell crafted in secret — was essentially voted down in the Senate late on Tuesday night. Fifty-seven senators opposed the bill, including nine Republicans, and some of the votes were surprising. However, the measure was expected, to fail and it's just the first step the complex weeklong push to get some kind of Obamacare repeal thorough the Senate.
The vote was on a modified version of BCRA that included Ted Cruz's plan to allow the sale of cheap, skimpy plans on the exchanges, and $100 billion to offset costs for people pushed out of Medicaid, which Rob Portman demanded. (Technically the vote was on whether Cruz's amendment satisfied Senate rules, but senators were expressing their opinions on BCRA.) The bill needed to clear 60 votes due to objections by the Senate parliamentarian, but it fell short of even the 50 votes that would have been required had it been allowed to proceed as a budget-reconciliation bill.
As expected, Susan Collins and Lisa Murkowski — the only two Republicans who voted against opening debate on the health bill hours earlier — voted against BCRA. Conservatives "no"s Rand Paul, Mike Lee, and Jerry Moran complained that BCRA doesn't completely repeal Obamacare.
Weeks ago Dean Heller — the most vulnerable GOP senator up for reelection in 2018 — said he was a no on BCRA and even the motion to proceed. He wound up voting yes on Tuesday's earlier procedural vote, and against the modified version of McConnell's bill. Bob Corker said he voted no because there was no Congressional Budget Office score for the bill. Tom Cotton (who's from Arkansas, a Medicaid-expansion state) has been criticizing how the GOP was going about Obamacare repeal since the House came up with the American Health Care Act, but he hadn't officially announced his opposition to the Senate version.
Lindsey Graham had previously come out against BCRA, calling for a "new approach" to Obamacare repeal — but only after Lee and Moran dealt the bill what appeared to be a death blow last week.
There were two unexpected Republican "yes" votes on Tuesday night. Shelley Moore Capito had said BCRA is "not the right fix for West Virginia, and I cannot support it." As Nate Silver explains, it's likely she only supported it because she knew her vote wouldn't be decisive:
For Capito, my theory is that she thinks the BCRA would be bad for West Virginia because of its huge Medicaid cuts, but also knows that Trump is super popular in her state. So an outcome where the bill fails but she winds up supporting Trump's position is pretty optimal for her. How she would have voted if she were the decisive vote might be harder to say.
John McCain voted yes just hours after calling for a return to "regular order" and declaring "I will not vote for the [BCRA] as it is today. It's a shell of a bill right now." He told BuzzFeed: "I just thought it would be good to move the process forward, and then we'll see what happens later on."
That suggests McCain mainly saw the vote as a procedural move, though it was widely viewed as a vote about BCRA itself. Regardless, McCain's decision to pass up two opportunities to return to regular order on Tuesday is just another baffling element of this week's mad dash to score a political win by taking health care away from millions of people.
Next up is a vote on a straight Obamacare repeal with no replacement, which is scheduled for midday Wednesday. That's also expected to fail, though the Senate put the measure on President Obama's desk in 2015. Then, at the end of the week, the Senate votes on whatever new trick McConnell can pull out of his bag.
This post was updated to include McCain's explanation for his vote.