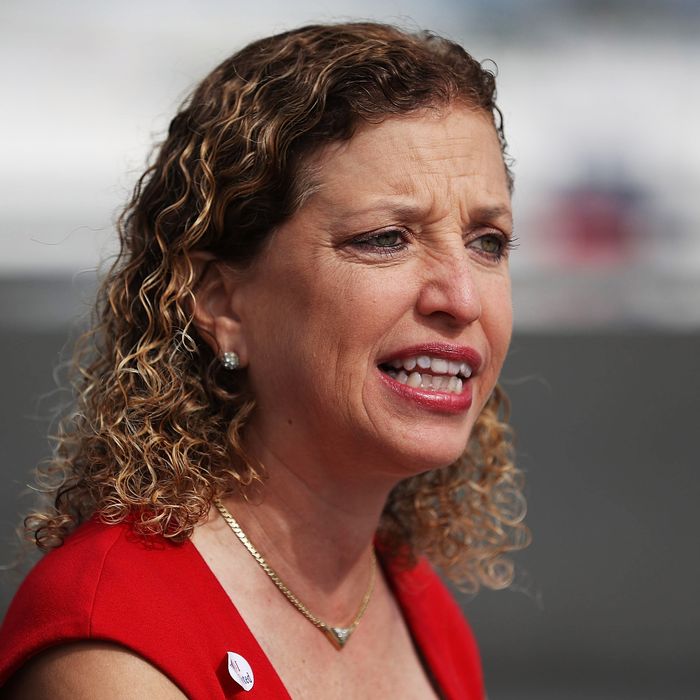 Representative Debbie Wasserman Schultz.
Photo: Joe Raedle/Getty Images
A longtime IT staffer for Representative Debbie Wasserman Schultz, the former leader of the Democratic National Committee, was arrested Monday while allegedly trying to flee the country and charged with bank fraud, the latest development in an increasingly odd story.
On Tuesday, Imran Awan, who was trying to fly to Pakistan when the FBI nabbed him, was charged with defrauding the Congressional Federal Credit Union for lying on an application for a $165,000 loan. According to court documents, Awan and his wife lied about an Alexandria property being their primary residence, instead of a rental. They then wired the $165,000 to Pakistan.
Awan is a longtime Capitol Hill staffer who has worked as a shared employee for many different Democratic members of Congress since 2004. Most recently, he worked for Wasserman Schultz but was fired on Tuesday.
Awan's legal troubles began in February after he, his wife, and several other relatives became the target of an investigation into what Politico called an "alleged procurement scam." The group was reportedly busted for stealing equipment from 20 House members and accessing House IT systems without permission.
Around this time, most lawmakers cut ties with Awan, but Wasserman Schultz kept him around. And that's the detail at the center of the right-wing media's interest with this story. The Daily Caller has also honed in on an exchange Wasserman Schultz had with the chief of the U.S. Capitol Police in which she repeatedly asked him to return a laptop that belonged to her.
All of this has led writers such as National Review's Jim Geraghty to ask some questions:
Why was Wasserman Schultz so impatient to get her computer back from the Capitol Police if it's relevant to a criminal investigation? Why did she keep Imran Awan on staff until this week? Who's got the money now? Did a bunch of longtime Capitol Hill IT staffers risk it all for $165,000?
In a statement, Awan's lawyer said his client wasn't fleeing the country, but going to stay with family in Pakistan after being "unjustly fired" and enduring harassment from "extremist right-wing bloggers."
"For months we have had utterly unsupported, outlandish, and slanderous statements targeting Mr. Awan coming not just from the ultra-right-wing 'pizzagate' media," the statement said. "Because we are confident in the integrity of the U.S. justice system, we are confident that Mr. Awan will soon be able to clear his name and get on with his life."