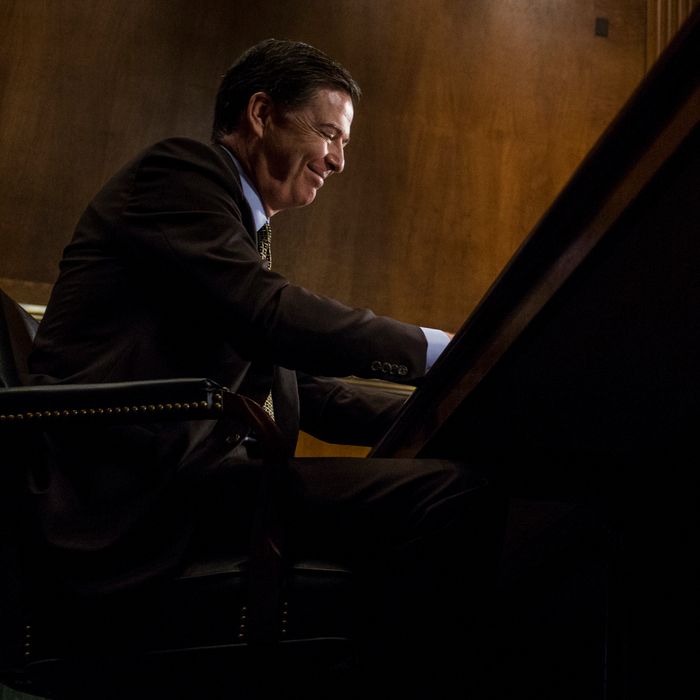 Comey's last laugh will eventually be available on bookshelves.
Photo: Zach Gibson/Getty Images
Infamous memo-writer (and former FBI director) James Comey is working on a book about his experience as a public servant. Not surprisingly, the New York Times reports that the book will cover Comey's doomed tenure in the Trump administration and interactions with the president, and that the upcoming book deal is sure to make the fired FBI director a sizable amount of money. The agents now working for Comey are of the literary kind, and they've recently been making the rounds at New York publishers as the book is expected to go up for auction among the major houses next week.
Comey has clocked up more than two decades of working in government, and his run-ins with Trump are far from the only controversy he's been involved in over that time. His book won't be a tell-all, however, but will be "about leadership and his search for truth, informed by lessons and experiences he's had throughout his career, including his recent experiences in the Trump administration," according to one of his representatives at the literary agency Javelin.
Obviously everyone has been expecting Comey to go in this professional direction since Trump fired him in May, especially after Comey started leaking memos detailing some very troubling conversations he'd had with the president about the ongoing investigation into Russia's interference — and possible collusion with the Trump campaign — in last year's presidential election. In addition, Comey briefly became a daytime-television star when his congressional testimony about Trump attracted at least 20 million viewers in early June.
Apparently, despite speculation that he would be able to secure an eight-figure book advance, Comey only recently warmed to the idea of writing a book after realizing he had something more to say about the surely voluminous amount of notes he's taken throughout his career. Fox and Friends' producers can rest easy, also, since the book will be fully and officially vetted in advance to make sure no classified information is disclosed.
It remains unclear, however, if Comey will do the right thing and make sure advance copies of his book don't go out until 11 days before the next presidential election.